Massive traffic in Delhi due to restrictions for Republic Day Parade rehearsal
PTI | | Posted by Shobhit Gupta
Jan 23, 2023 06:30 PM IST
Republic Day 2023: Major roads in and around Delhi including on the DND flyover and Ghazipur border were affected from the morning rush hours till around 2 pm.
The national capital saw massive traffic jams and a slowing down of vehicular movement in many areas on Monday owing to restrictions for the Republic Day Parade rehearsal, with commuters stuck for hours on roads.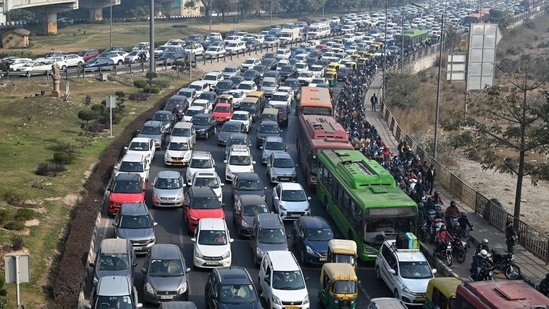 Read here: Republic Day 2023: How and where to buy tickets for the parade and Beating the Retreat ceremony
Major roads in and around Delhi including on the DND flyover and Ghazipur border were affected from the morning rush hours till around 2 pm. Busy stretches including ITO, Sardar Patel Marg, Kashmeri Gate and Chankyapuri were also choked.
The Delhi Traffic Police had issued an advisory on the arrangements and restrictions for the smooth conduct of Monday's full dress rehearsal for the Republic Day parade. Many office goers had come prepared for traffic diversions, but alternative routes also witnessed slow traffic.
"Sri Aurbindo Marg was completely blocked due to traffic. Even as I took the other route via Malviya Nagar, there was traffic from Hauz Khas onwards. The road leading towards Parliament Street from Chankyapuri was completely blocked due to heavy traffic and caused a delay of at least an hour," said Ananya Basu (35).
Even those who left early for their destination failed to beat the traffic woes.
"Today I had to leave for work 30 minutes early as there were some traffic restrictions issued by the Delhi traffic police. Although there was enough deployment of police personnel, traffic near Ram Manohar Lohia hospital, which is usually smooth, was moving slowly," Silpi, who was heading to Parliament Street, said.
Several people also opted for Delhi metro due to the traffic jams.
"I usually commute by car but today I knew that roads will be chock-a-block, so I took the metro," said Krishan Pal.
Police said they received several calls from commuters reporting traffic woes.
Vikas Marg (from Laxmi Nagar to ITO), Pragat Maidan, and Akshardham were three of several such stretches which witnessed intractable snarls.
Ankita Singh, a commuter, said, "Traffic from Noida till Akshardham was heavy. The route leading towards ITO also had traffic jams and the GPS showed 40 minutes to cover a distance of around 6 kilometres."
Several commuters took to Twitter to inform others about the traffic situation in the city, with one of them reporting heavy jams on ITO, Pragati Maidan, and Geeta Colony flyover.
Read here: Republic Day 2023: Parade timings and where to watch live telecast
While one said that traffic did not move at ITO for over an hour, another commuter, who said he was stuck for two hours, advised people against venturing out on roads.
Prerna Singh, who works in central Delhi, said, "I live in the southern part of the city and reach my office within an hour and a half.
"However, there were several roads that were closed on Monday due to rehearsal of Republic Day and my cab took an extra 30 minutes to drop me at my place."
Adding to the woes, a container truck got stuck under a metro track passing over a road in Noida on Monday morning, briefly leading to traffic congestion on the stretch leading to Delhi, officials said.
Traffic congestion was witnessed on the road stretch from 8.30 am to around 9 am after which the flow of vehicles was at normal speed, the official added.
Kautilya Marg, Sardar Patel Marg, Chanakyapuri, and Hauz Khas also witnessed massive traffic.
The Republic Day rehearsals started at 10.30 am from Vijay Chowk and the parade passed via the Kartavya Path, C-Hexagon, the roundabout statue of Netaji Subhas Chandra Bose, Tilak Marg, Bahadur Shah Zafar Marg, and Netaji Subhas Marg before concluding at the Red Fort.
According to the advisory, no traffic was allowed on the Kartavya Path from Vijay Chowk to India Gate from 6 pm on Sunday till the end of the parade on Monday.
Vehicular movement was also banned on the Kartavya Path at Rafi Marg, Janpath, and Man Singh Road from 11 pm Sunday till the parade ended. The C-Hexagon-India Gate was closed from 9.15 am on Monday till the parade crosses the Tilak Marg, the advisory stated.
Read here: 23 tableaux to depict India's culture and progress at Republic Day Parade 2023
Traffic on both sides of the roads was not allowed on Tilak Marg, Bahadur Shah Zafar Marg, and Subhash Marg from 10.30 am. Cross-traffic was only allowed depending on the movement of the parade, it stated.