Mathura sadhu offers Rs 1 Cr for Toilet Ek Prem Katha director's tongue
Nov 22, 2016 11:45 AM IST
Akshay Kumar was in Nandgaon village of Mathura for the shooting of his movie Toilet – Ek Prem Katha on Monday. The movie is being shot in Barsana and Nandgaon.
Incensed over the name and storyline of an under-production Akshay Kumar film that allegedly violates a marital tradition of two villages, a religious leader has declared a reward of Rs one crore to anybody who brings the tongue of the director.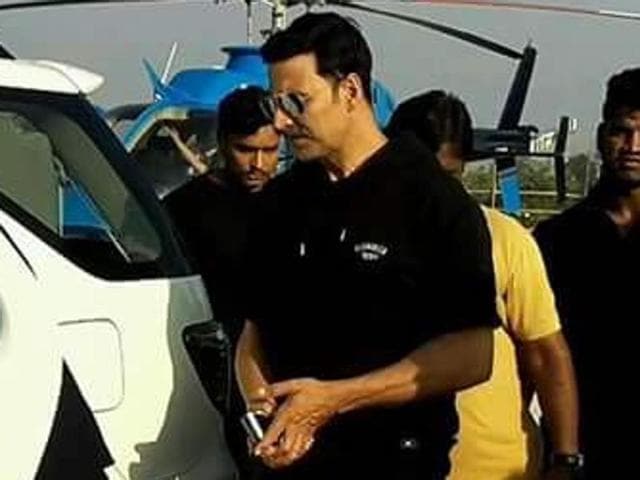 In his presidential address at a mahapanchayat of Hindu saints at Barsana village of Mathura on Monday, Phooldol Behari Dass Maharaj asked the producer of movie to change the title otherwise no further shooting would be allowed to take place in the Braj region. Seers of Vrindavan went to Barsana village to attend the mahapanchayat.
The movie Toilet – Ek Prem Katha which is being shot in rural areas of Mathura district, has raised the hackles of the saints who want the title and storyline changed. Traditionally, there are no marriages between men and women of Nandgaon and Barsana villages in deference to the 'pious love' of Lord Krishna and Radha. While Krishna hailed from Nandgaon, Radha was from Barsana. Some locals claim the story revolves around marriage links between Nandgaon and Barsana villages of Mathura.
Another religious leader, Mahamandleshwar Nawal Giri Maharaj suggested that the film's name could have been 'Toilet – A Swachhta Abhiyan' to give a message to society.
Mahant Haribol Maharaj condemned using the land of 'Radha and Krishna' for shooting a movie with such a title.
"We would not allow shooting if the title is not changed," warned the mahant.
"Even the Muslim community cooperates with Hindus in safeguarding the custom and tradition of Braj," another mahant Swami Adityanath Maharaj said in his address.
The director of the film, Narain Singh who addressed the media in Mathura later in the day, refuted allegations that his film would hurt religious sentiments.
"We are shooting scenes in Nandgaon and Barsana but every doubt would be cleared with release of movie as nowhere the name of Nandgaon has been used in it. The movie is on women's empowerment and 'Swachhta' and Barsana is chosen for communicating this message through 'lath-maar' Holi since Mughal period," Singh said.
Last week, a lawyer Goklesh Katara had threatened to serve legal notice to the film's director if the storyline goes against a tradition in the Braj region, wherein people of Nandgaon aren't allowed to marry people from Barsana.
While right-wing elements are seeing red at the movie's title, Akshay Kumar's fans seemed to have no such qualms and thronged a helipad as the actor flew in from Delhi for the shoot.