Mizo National Front rules out pre-poll alliance with BJP in Mizoram
Hindustan Times, Guwahati |
Sadiq Naqvi
May 25, 2018 09:29 AM IST
The saffron party's decision to take the support of Congress members in the recently held polls to the Chakma Autonomous District Council is believed to have annoyed MNF chief Zoramthanga.
At a time when the BJP is expanding its footprint in the Northeast through strategic tie-ups with regional parties, the Mizo National Front (MNF) in Mizoram has ruled out striking an alliance with the saffron party ahead of the upcoming assembly polls.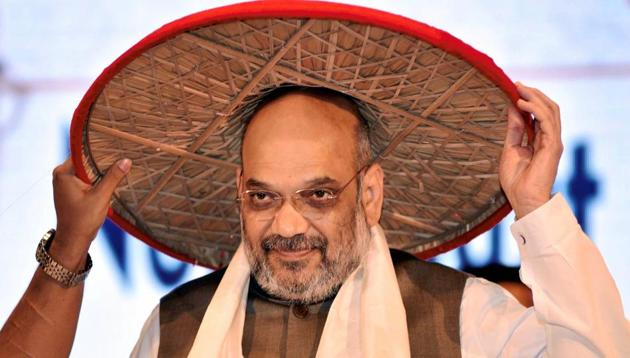 "An alliance with the BJP is not possible," MNF chief Zoramthanga said, when asked if he would consider any such deal to thwart the ruling Congress.
The elections to the 40-member state assembly are scheduled for later this year. Mizoram is the last citadel still held by the Congress in the Northeast region in the face of an energetic BJP. The MNF is part of the North-East Democratic Alliance (NEDA), an umbrella of regional parties floated by the BJP when it came to power in Assam in 2016.
"The Northeast will be Congress-mukt (Congress-free) after the Mizoram polls," BJP president Amit Shah had promised in an address delivered at the third convention of NEDA in Guwahati recently. However, with Zoramthanga not even sending a representative to the convention, speculations were rife that all was not well between the BJP and the MNF. Some even believed that the MNF was going the Naga People's Front way by moving away from NEDA in the light of the BJP forming a government in Nagaland with the help of the rival Nationalist Democratic Progressive Party.
JV Hluna, president of the BJP's state unit, said the party's decision to take the support of six elected members of the Congress instead of the MNF in the recently held polls to the Chakma Autonomous District Council may have upset Zoramthanga.
After the MNF emerged as the single-largest party in the electoral contest, it announced that it would rule the tribal body with the support of elected BJP members allegedly without even consulting the saffron leadership. The BJP, however, decided to seek the support of the Congress members in their "individual capacity" after they offered unconditional support to a saffron party candidate for the post of chief executive member.
"The BJP's decision is the strangest thing. Only they can explain it," said Zoramthanga after the development, but maintained that the MNF "continues to be a part of NEDA and NDA". He cited fever and diarrhoea as the reasons for not being able to visit Guwahati for the NEDA convention.