Mizoram govt distances itself from International Yoga Day
Mizoram BJP rejected claims that yoga is 'anti-Christian' and accused the CM of trying to do the 'exact opposite' of what the Modi govt wants.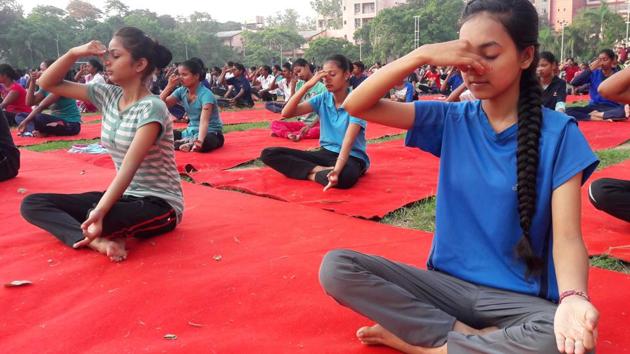 Updated on Jun 21, 2018 08:46 AM IST
Hindustan Times, Guwahati |
Sadiq Naqvi
The country may be preparing to celebrate International Yoga Day on Thursday, but the northeastern state of Mizoram is unlikely to see much revelry on the occasion.
State government officials said Mizoram chief minister Lal Thanhawla and his cabinet are unlikely to participate in any Yoga Day event. In fact, some seemed clueless about the event, which has been dubbed "anti-Christian" by religious groups in the state.
"I do not know about any such event. I am currently in my constituency, carrying out rescue and relief works in the wake of the floods," said Zodintluanga, the state cabinet minister for sports and youth affairs.
A public relations official in the chief minister's office (CMO) said Lal Thanhawla was busy preparing for his grandson's wedding on June 21.
Another official in the CMO said yoga was not in keeping with the beliefs of Mizoram's Christian-majority population. "While there is no particular order against observing it, the state government does not encourage it either," he added.
The last Congress-ruled state in the Northeast will go to the polls later this year.
The World Yoga Day has been a controversial subject in the past, with churches as well as other Christian organisations calling for a boycott of the event on the grounds that yoga is a "part of Hindu philosophy". In 2017, the state government decided to hold a 'Healthy Mizoram Campaign' on that day.
JV Hluna, president of the BJP's Mizoram unit, said it was a pity that Lal Thanhawla feels the need to do the exact opposite of what the Centre does. "Some Christian groups say that yoga traces its origins to Hinduism. I try to explain to them that even kung-fu, which is taught in schools, came from Shaolin temples where Buddhism was followed. Practising yoga doesn't equate with converting to another religion," he added.
The Assam Rifles – which has a large presence in the state – will organise a World Yoga Day programme in Aizawl this year too. However, state governor K Rajasekharan will not be in attendance because he has gone to Kerala, an official said.
Close Story