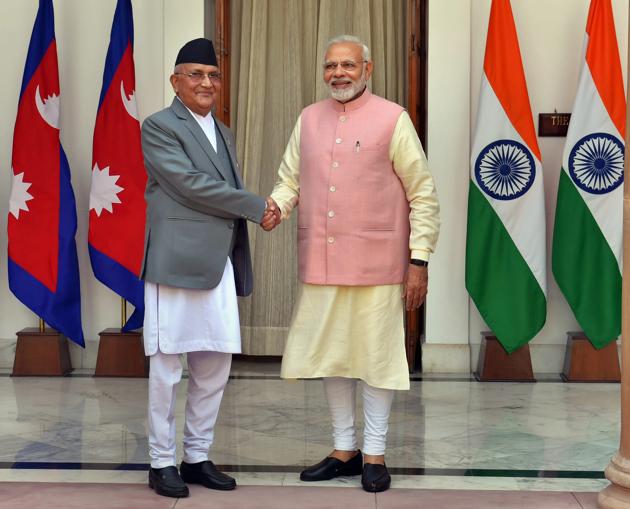 India, Nepal to reset ties with rail, water links
Nepali PM KP Oli, who is on a three-day visit to India, also invited PM Narendra Modi to Kathmandu as the two countries work on enhancing bilateral ties.
UPDATED ON APR 07, 2018 11:04 PM IST
Moving to reset their wobbly relationship, India and Nepal on Saturday identified new areas of bilateral cooperation, including the construction of an India-funded railway line connecting Raxaul in Bihar with Kathmandu, and reaffirmed their commitment to strengthening their partnership on a framework of "quality, mutual trust and respect."
Nepal's Prime Minister KP Oli, on the second day of a three-day visit to India, called for a "trust-based" relationship between the two sides after holding talks with Indian Prime Minister Narendra Modi, who stressed bilateral security ties and a commitment to stop the misuse of their open border .
Besides the proposed rail
link, India and Nepal identified inland waterways and agriculture as potential new areas of cooperation.
Nepal is a key neighbour of India's, sharing a 1,850 km border with five Indian states -- Sikkim, West Bengal, Bihar, Uttar Pradesh and Uttarakhand.
To its north, Nepal borders China.
Oli, on his first overseas visit since being sworn in in February as the head of a Communist government for the second time, is seeking to thaw a relationship that has been uneasy because of his pro-China image.
India, for its part, has rolled out the red carpet for the Nepal leader as it s strives to counter China's influence.
"Prime Minister Modi assured Prime Minister Oli that India remains committed to strengthening its partnership with Nepal as per the priorities of the Government of Nepal," a joint statement issued after the meeting between the two leaders said.
"Relations between neighbours are different from those of others. Neighbourhood realities make peaceful coexistence, based on the principles of equality, justice, mutual respect and benefits a necessity for shared destiny," Oli said.
With the objective of expanding connectivity, the two sides agreed to construct a new electric railway line, with India's financial support,linking Raxaul with the Nepal capital.
"As a first step, it was agreed that Government of India would, in consultation with the Government of Nepal, carry out preparatory survey work within one year, and the two sides would finalise the implementation and funding modalities of the project based on the Detailed Project Report", said a separate statement titled 'Expanding Rail Linkages: Connecting Raxaul in India to Kathmandu in Nepal.'
The two leaders referred to the progress made in the implementation of Phase 1 of India-Nepal cross-border rail link projects. The railway lines from Jayanagar to Janakpur/Kurtha and from Jogbani to Biratnagar Custom Yard will be completed in 2018, and work on the remaining stretch of ongoing rail link projects -- Jayanagar-Bijalpura-Bardibas and Jogbani-Biratnagar -- will be taken forward on a priority basis.
"Taking cognizance of their geographies and noting the development of inland waterways in both countries, the two Prime Ministers took the landmark decision to develop the inland waterways for the movement of cargo, within the framework of trade and transit arrangements, providing additional access to the sea for Nepal," said a separate statement on inland waterways.
The two sides also decided to launch a New Partnership in Agriculture that will focus on collaborative projects in farm research and development, education, strengthening of supply and value chains, climate resilience, research in seed technology, soil health, strengthening the infrastructure of plant protection laboratories, research in indigenous genetic resources, animal husbandry, veterinary research and development facilities, agro-forestry, bio-pesticides and bio-fertilisers.
"Our future lies in the expansion of the economic facility and improving investments. Agriculture is one of the areas where India has made significant progress and Nepal could learn from it," Oli said.
Topics
Close