Modi in Nepal Highlights: PM says India stands with Nepal in its development journey
Updated on May 12, 2018 10:16 PM IST
PM Modi is on a two-day visit to Nepal, the first since the 2015 border blockade blamed on India which crippled Nepal's economy.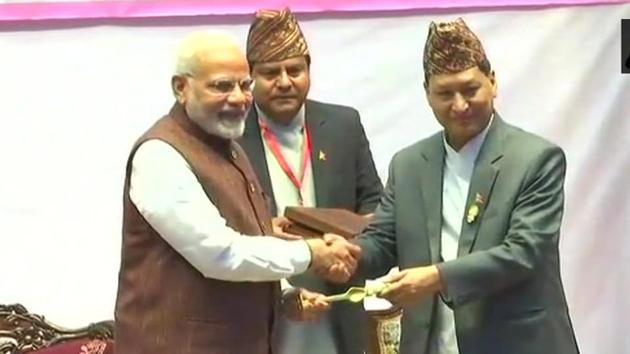 Prime Minister Narendra Modi offered prayers at the Muktinath and Pashupatinath temples, followed by meetings with political leaders of various parties, on the second day of his visit to Nepal on Saturday.
PM Modi arrived in Kathmandu on Friday after a brief halt in Janakpur where he offered prayers at the famed 20th century Janaki temple and attended a civic reception.
He held a one-on-one meeting with Nepalese Prime Minister KP Oli followed by marathon delegation-level talks on all aspects of the bilateral relationship.
On Friday, Modi also inaugurated a direct bus service between Janakpur and Ayodhya and, with Oli, laid the foundation stone of the 900-megawatt Arun III Hydroelectric Power Plant in Tumlingtar area in eastern Nepal.
Here are the highlights from Modi's Nepal trip:
3.54pm: "For the first time, a Nepali player is participating in the Indian Premier League. In the future, our ties will grow stronger in every area," he says.
3.53pm: "Nepal should take steps for its progress as it sees fit. India stands shoulder to shoulder with Nepal in its development journey," says PM.
3.49pm: PM Modi says he admires Nepal's spirit of resilience and commitment towards democracy.
3.38pm: "Since the earthquake, there has been a transformation of not just Nepal's infrastructure but of the country and its people. I congratulate you on this," says Modi.
3.46pm: "In 2016, India and France envisioned a global partnership in the area of climate change and, in March, the International Solar Alliance brought together nations from across the world," says PM Modi.
3.43pm: PM says 'Sabka Saath, Sabka Vikas' is as much about global well-being as it is about India's growth.
3.39pm: PM Modi says the next time he visits Nepal he will make sure to Lord Buddha's birthplace Lumbini.
3.36pm: "During my previous visits I prayed at Pashupatinath. This time, in addition to Pashupatinath, I went to Janakpur and Muktinath. These places illustrate close ties between our nations," says PM.
3.34pm: "Kathmandu is a mixture of the ancient and the modern. This city showcases the culture of Nepal," says Modi.
3.34pm: "Kathmandu is not just a city or the capital of Nepal. It is a world as expansive as the Himalayas," he says.
3.30pm: "You have honoured me and 125 crore Indians," says PM Modi.
3.27pm: PM Modi is felicitated and presented with souvenirs by the Mayor of Kathmandu. The Prime Minister addresses the gathering.
3.18pm: Mayor of Kathmandu Bidya Sundar Shakya presents key of the city to PM Modi.
3.10pm: PM attends a civic felicitation program in Rastriya Sabha Griha in Kathmandu.
2.58pm: PM Modi's visit to Nepal was decided soon after Oli's election as prime minister, Gokhale said, amid speculation over its timing which coincides with the Karnataka assembly election.
"When Prime Minister Modi had telephoned Prime Minister Oli upon his election as the prime minister of Nepal, they had discussed the visit then. Prime Minister Oli had then expressed his desire for an early visit by Prime Minister Modi. They had discussed the visits, and the Prime Minister (Modi) had said you (Oli) come first.
"So that's how the sequence has been, first Prime Minister Oli visited India and now Prime Minister (Modi) is in Nepal," Gokhale said.
2.36pm: PM Modi met with former foreign affairs minister of Nepal Upendra Yadav, says MEA.
2.35pm: "Prime Minister KP Oli confirmed that Nepal will hold the BIMSTEC (Bay of Bengal Initiative for Multi-Sectoral Technical and Economic Cooperation) summit this year and also expressed commitments towards BBIN (Bangladesh-Bhutan-India-Nepal) initiative," says Gokhale.
2.25pm: "Nepal PM KP Oli reiterated that Nepal will be sensitive to our concerns and that Nepal's territory will not be allowed to be used by anybody against India. PM Modi reciprocated the sentiments," says foreign secretary Vijay Gokhale.
1.29pm: The Prime Minister met with Mahanta Thakur, president of the Rastriya Janata Party - Nepal, and other leaders of the party. "PM congratulated the party on their recent electoral performance and exchanged views on deepening our bilateral relations with Nepal," MEA said.
1.14pm: PM Modi met Communist Party of Nepal (MC) chairman Pushpa Kamal Dahal 'Prachanda', the former of prime minister of Nepal, and exchanged views on strengthening views on bilateral relations, says MEA.
12.55pm: President of Nepali Congress and former Prime Minister Sher Bahadur Deuba and other members of the Nepali Congress called on PM Modi in Kathmandu, says MEA.
12.30pm: PM Modi visits Pashupatinath Temple in Kathmandu.
10.42am: PM Modi offered prayers at the golden statue of Lord Vishnu as Mukti Narayan at the temple.
10am: Uttar Pradesh Chief Minister Yogi Adityanath receives the first bus of Indo-Nepal bus service from Janakpur to Ayodhya. The service was inaugurated by PM Modi in Nepal's Janakpur on Friday.
9.30am:
8.25am: PM Modi visits Muktinath Temple in Mustang district of Nepal. The Prime Minister offered prayers at the temple.
Muktinath is located at a height of 3,710 metre at the foot of the Thorong La mountain pass and is regarded sacred by both Hindus and Buddhists.
Prime Minister Modi will attend the civic reception hosted by the mayor of Kathmandu and depart for India in the evening.
Personalise your news feed. Follow trending topics