Modi promises inclusive growth, says previous govts neglected development
Updated on Jul 15, 2018 08:24 PM IST
Narendra Modi's attack on previous governments came a day after he assailed the Opposition for practising dynastic politics.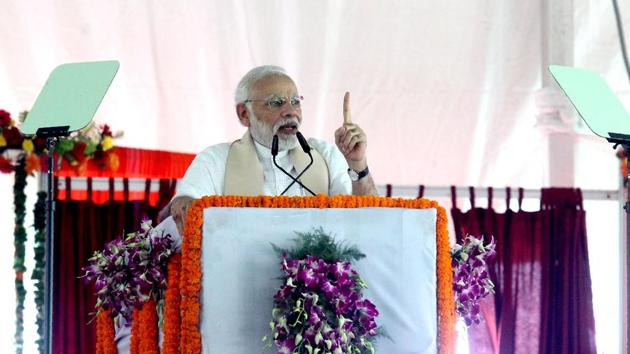 Prime Minister Narendra Modi on Sunday said his government was looking forward to a "new India" to ensure inclusive growth while accusing the previous governments of neglecting development.
"The new India will ensure education for children, jobs for unemployed, medicines for the poor and irrigation facilities for farmers. The new India will have all the facilities and the system will be transparent," Modi said at a rally after launching development projects worth over Rs 4,000 crore in Uttar Pradesh's Mirzapur.
Modi's attack on previous governments came a day after he assailed the Opposition for practising dynastic politics. He had accused the Congress of being the biggest hurdle to the passage of a bill to abolish instant triple talaq while questioning whether the party was only that of Muslim men.
The Congress hit back on Sunday saying it does not need a certificate for its credentials from Modi. "This sick mindset of his is a national concern," said Congress leader Anand Sharma in reaction to Modi's remarks on Saturday.
"Calling the party a Muslim party is not befitting of a PM. He has less knowledge of history. He writes his own history."
On Sunday, Modi targeted previous governments on farmers' issues. "Those who are shedding crocodile tears for farmers today, you must ask them why they did not complete irrigation projects when they were in power. Why did they leave these works incomplete?"
He said the government aims to double farmers' income by 2022 and to end the divide between the rich and the poor.
Modi dedicated the Bansagar canal project to the nation, laid the foundation stone for the Mirzapur Medical College besides launching various development projects.
He said had the previous governments completed the Bansagar project, the foundation of which was laid in 1978, the country could have saved money.
"When the foundation of the project was laid, its estimated cost was Rs 300 crore, which has now gone up to Rs 3,500 crore. Are they not responsible for the wastage of public money?"
He added Bansagar was not the only project neglected by previous governments. Modi added his government identified all the developments projects that were stuck and brought them back on track.
"Those who are now indulging in politics in the name of farmers had no time to raise the minimum support price (MSP). They sat on files. We raised the MSP by 1.5 times," he said.
Modi cited a recent international report saying five crore people had come out of poverty in the last two years. "Isn't this the fruit of the government's schemes?"
He said his government was working on bringing out a national health protection scheme soon. "We are bringing about a health insurance scheme for the poor. Some people are calling it Modicare. Schemes like life insurance and accident insurance will be available at Re 1 a month and 90 paise per day," he said.
"With such schemes, we are ending the divide between the rich and the poor."