Modi, Putin hold talks on boosting energy and trade ties; deal on Kudankulam units likely to be signed
Russian President Vladimir Putin is hosting Indian Prime Minister Narendra Modi on the sidelines of the Kremlin's annual economic forum, as Moscow looks to burnish a fragile recovery despite tensions with the West.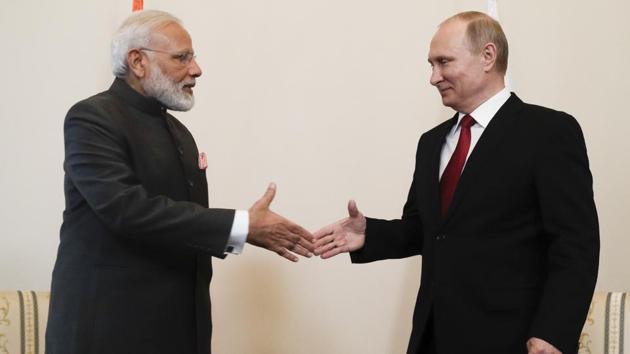 Updated on Jun 01, 2017 05:49 PM IST
Press Trust of India | By Press Trust of India
Prime Minister Narendra Modi and Russian President Vladimir Putin held talks on bilateral, regional and international issues of mutual interests, including ways to boost energy and trade ties.
At the beginning of their restricted meeting, Modi told Putin he was happy to be able to visit his hometown as Prime Minister. This is for the first time Indo-Russia summit in Russia was happening outside Moscow in St Petersburg.
"Normally, international relations see ups and downs but history is witness Indo-Russia relations have not seen any ups and downs," the PM said and thanked the Russian president for playing crucial role in getting India Shanghai Cooperation Organisation (SCO) membership.
Putin said India will become a full-fledged member of the SCO in a week.
Modi mentioned to Putin about his visit to the cemetery this morning where he paid homage to the victims of the World War II. "You are a leader whose family has given sacrifices. Your brother was martyred," Modi told Putin.
Putin's brother was killed 70 years ago in the siege of Leningrad during the World War II.
He thanked Modi for visiting the war memorial, saying such places have special place in Russian people's heart.
The two sides are expected to sign 12 agreements in wide-ranging sectors, including in science and technology, railways, cultural exchanges and other business areas between private parties also, in addition to a "vision statement" that the two leaders will release.
They are likely to ink a deal to build the last two units of India's largest nuclear power plant in Kudankulam.
Close Story