Muslim man's house, village namaz ghar vandalised in Rohtak on suspicion of cow slaughter
Updated on Aug 23, 2018 10:53 AM IST
Villagers armed with lathis attacked Yamin Khokhar's house on the suspicion that he killed a cow on the occasion of Eid; they later unleashed their fury on the village namaz ghar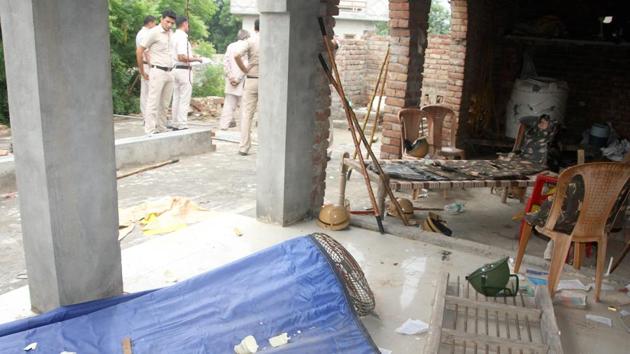 An unruly mob on Wednesday vandalised the house of a Muslim man at Titoli village in Rohtak over suspicion that he killed a cow on the occasion of Eid. Yamin Khokhar, his family and neighbouring Muslim families fled the village to save their lives before the mob armed with lathis also vandalised the namaaz ghar of the village.
According to villagers, a calf hit Yamin's niece on Wednesday when she was playing outside his house, leaving her injured. "To shoo away the calf, Yamin hit it with a lathi. The calf walked a few steps and died on the corner of the road. But some anti-social elements spread the rumour that Muslims killed it for Bakrid. Yamin and his family fled the village apprehending trouble," said Naseerudin, Yamin's neighbour.
He said while some Muslim families fled, the others remained inside their homes when a group of people attacked Yamin's house.
Angered over the incident, the villagers forcibly buried the carcass of the calf at the Muslim burial ground and announced that they will now build a gaushala there.
Meanwhile, Yamin and his neighbours reached the police station for protection, where the police arrested him, his brother Yasin and his neighbour Shokeen and booked them under the Punjab Prohibition of Cow Slaughter Act, besides Section 429 of the Indian Penal Code.
Before his arrest, Yamin posted his version on Facebook in the comment section of one of the villagers' post that accused him of killing cow for slaughter. "Please try to understand. It happened by mistake. Muslims can also be vegetarian. Neither I nor my neighbours have ever slaughtered a cow. We drink cow's milk," he wrote.
Rohtak Sadar police station SHO Manjeet Kumar said they arrested the three on the basis of the complaint filed by village sarpanch Suresh Kumar.
On being asked about what action was taken against the mob for vandalising property of Muslims, he said the police had not got any complaint in this regard.
Sarpanch Suresh said he lodged the complaint against Yamin to pacify the angry villagers.
"Yamin should have informed us when the calf was killed mistakenly. Instead. they picked it up in their vehicle and were going to bury it. This is how rumours spread on WhatsApp. I also believe it was mistakenly killed. If it were for slaughtering, he would have done it inside his house rather than on the street," the sarpanch said.
A local BJP leader, Raju Sehgal, who was inducted in the party recently in presence of chief minister Manohar Lal Khattar, was among those who sent inciting messages on WhatsApp groups against Muslims. He later deleted his messages.
Topics
Personalise your news feed. Follow trending topics