No offer yet, but we're interested: Tatas on Jet Airways deal
Tata already owns two Indian airlines but has less than 10 percent of the country's aviation market.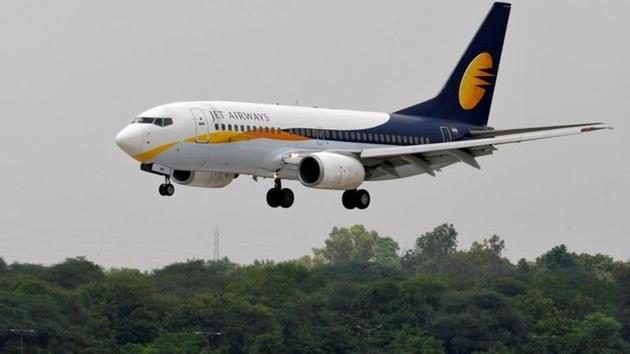 Updated on Nov 17, 2018 08:41 AM IST
Indo Asian News Service |
Reuters
Indian conglomerate Tata Sons Ltd said on Friday it is in preliminary talks with struggling Jet Airways Ltd but has not made a proposal to acquire a stake, cooling speculation that a deal was imminent.
Shares in debt-laden Jet Airways surged on Friday for a fourth straight day after media reported that Tata was close to making a takeover bid for the airline, which flies to destinations including Hong Kong, Dubai, London and New York.
"Over the last few days there has been growing speculation in the print and electronic media about Tata's interest in Jet Airways," Tata said in a statement. "We would like to clarify that any such discussions have been preliminary and no proposal has been made."
Jet Airways' shares closed up 7.9 percent at 346.5 rupees ($4.82), their highest close in four months.
Tata already owns two Indian airlines but has less than 10 percent of the country's aviation market.
A deal with Jet would transform Tata from a fringe player into the country's dominant, full-service international carrier, but would also give it a loss-making company that is struggling to stay afloat and owes money to vendors and employees alike.
Jet is 24 percent owned by Etihad Airways. The Abu Dhabi-based carrier is keeping all options open but would want to retain its stake even if Jet is sold to another airline or the Tata group, a source aware of the matter told Reuters.
India is the world's fastest-growing domestic aviation market with 20 percent annual passenger growth but rising fuel costs, a weak rupee and intense competition have wrought havoc on the finances of Jet and other carriers.
The survival of the 25-year-old airline, founded by entrepreneur Naresh Goyal, is crucial for a host of companies from which it leases over 100 of its fleet of 124 planes. The airline also has 225 Boeing Co 737 MAX jets on order.
Tata Sons board met on Friday and were told about the conglomerate's preliminary interest in Jet at the meeting, one source familiar with the matter told Reuters.
After losing money at Alitalia and Air Berlin, Etihad is not ready to take another hit by simply selling out and might want to be part of the new consortium, if that happens, said the source, adding that India is a big and important market.
"Etihad is waiting to see what the deal on the table is; it is working out the best-case scenario, the price is a big factor," said the source.
An Etihad spokesman declined to comment.
Indian airlines are increasingly looking abroad in search of better returns as price competition intensifies domestically.
Tata's two airline ventures in India include full-service carrier Vistara, which is in partnership with Singapore Airlines Ltd, and low-cost carrier AirAsia India in combination with AirAsia Group Bhd.
If the deal goes through, Tata would likely seek to combine Vistara with Jet, sources have told Reuters, thereby achieving international expansion in a fraction of the time it would take organically.
Close Story
Personalise your news feed. Follow trending topics