'Not helpful', says US on India's plans to buy Iran oil, Russia's S-400 air missiles
Hindustan Times, Washington |
Yashwant Raj
Oct 12, 2018 04:28 PM IST
State department spokesperson Heather Nauert said "it's not helpful" to note India plans to continue buying Iranian oil and the decision to purchase Russian S-400 air defence systems, both of which are subject to secondary American sanctions.
As a top US official headed to New Delhi for talks on Iran sanctions, a state department spokesperson said "it's not helpful" to note India plans to continue buying Iranian oil and Russian S-400 air defense systems, both subject to secondary sanctions under separate legislations.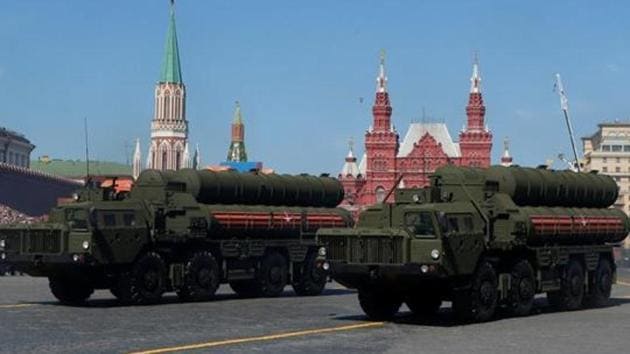 The spokesperson's observation on Thursday came a day after President Donald Trump told reporters that India would find out "sooner think you think" about his decision on whether to impose sanctions on a $5.4-billion S-400 deal with Russia. He also said the US would "take care of" of reported plans by India and China to continue buying Iranian crude after sanctions kick in on November 5.
State department spokesperson Heather Nauert added a new edge to Trump's comments when she said that "when we hear about things such as purchasing oil or purchasing of the S-400 systems, it's not helpful".
"The US government just reviews that very carefully," she added.
The state department announced on Thursday that the special representative on Iran, Brian Hook, accompanied by assistant secretary of state for energy Francis Fannon, will meet "Indian government counterparts for consultations".
The statement didn't provide details of talking points, but added Hook "will engage our allies and partners on our shared need to counter the entirety of the Iranian regime's destructive behavior in the Middle East, and in their own neighbourhoods".
From New Delhi Hook will carry on to Luxembourg, France and Belgium.
India signed an agreement with Russia last week for five S-400 systems despite appeals from the US that the air defence systems are a "focus area" of secondary sanctions under the Countering America's Adversaries Through Sanctions Act (CAATSA), which is aimed at punishing Russia for annexing Crimea and interfering in the 2016 US elections.
The Indian government has indicated state-owned refiners will continue buying Iranian crude after the second round of US sanctions kick in on November 5, specifically targeting oil, ports and banking. New Delhi had cut its purchases in anticipation of the curbs.
India has sought waivers, which the US has said it may consider on a case-by-case basis for countries that show a significant reduction in imports. But India has received no guarantees publicly yet. New Delhi also wants a carve-out for Chabahar, an Iranian port it has helped develop as a gateway to Afghanistan and Central Asia.
Iran is among India's three largest oil suppliers and New Delhi will need time to look for and switch to other providers, a process in which the US has said it is helping out. A phased reduction in oil imports has been sought, as was the policy under president Barack Obama before the signing of the Joint Comprehensive Plan of Action in 2015 that lifted UN-mandated Iran sanctions reinforced by those imposed by the US.