Noted architect Balkrishna Vithaldas Doshi passes away aged 95; PM mourns demise
Published on Jan 24, 2023 02:31 PM IST
Doshi was awarded the Padma Bhushan, the third-highest civilian honour in India, in 2020, and was a protégé of field legends Le Corbusier and Louis Kahn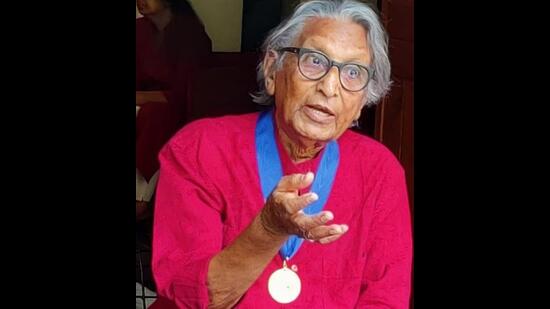 Renowned Indian architect Balkrishna Vithaldas Doshi, credited with designing some of the most iconic structures in the country such as IIM Bangalore, NIFT Delhi and CEPT University in Ahmedabad, passed away on Tuesday at the age of 95 in his home state of Gujarat.
He was the only Indian, and among a few globally, to have been conferred with both the Royal Gold Medal and the Pritzker Architecture Prize (often referred to as the Nobel Prize for architecture) in their lifetime.
"A loving husband, father, grandfather and great grandfather. No one loved life more than him. 'Anand Karo' – Celebrate Life – as he would always say. He had so many people that he loved dearly and who loved him back. He will leave for his onward journey from our residence Kamala House," his family said in a statement. The last rites will take place at 2:30 pm at Thaltej Crematorium in Ahmedabad.
Prime Minister Narendra Modi shared images on Twitter of their meeting to express sorrow over his demise.
"Dr. BV Doshi Ji was a brilliant architect and a remarkable institution builder. The coming generations will get glimpses of his greatness by admiring his rich work across India. His passing away is saddening. Condolences to his family and admirers. Om Shanti," PM Modi said in his tweet.
Doshi was awarded the Padma Bhushan, the third-highest civilian honour in India, in 2020, and was a protégé of field legends Le Corbusier and Louis Kahn.
In May last year, he was conferred with the Royal Gold Medal, 2022, one of the world's highest honours for architecture. Given in recognition of a lifetime's work, the Royal Gold Medal used to be approved personally by Queen Elizabeth II.
Doshi influenced the direction of architecture in India and adjacent regions in a career spanning seven decades through both his practice and teaching. His work combined pioneering modernism with vernacular, informed by a deep appreciation of the traditions of India's architecture, climate, local culture, and craft.
His projects included administrative and cultural facilities, housing developments and residential buildings, and had become internationally known for his visionary urban planning and social housing projects, as well as work in education both in India and as a visiting professor at universities across the world.
He has over 100 projects to his credit, including the famous Hussain-Doshi Gufa (now called Ahmedabad-ni-Gufa), IIM Bangalore, the CEPT University campus in Ahmedabad, Shreyas School in Ahmedabad, Bharat Diamond Bourse in Mumbai, the National Institute of Fashion Technology in New Delhi and the Physical Research Laboratory in Ahmedabad.
One of his most important works was the Aranya Low Cost Housing project in Indore in 1989. About 80,000 people live in the complex, a "system of houses, courtyards and a labyrinth of internal pathways", according to the statement in March 2018 by the Hyatt Foundation, which awards the Pritzker Prize.
Born in 1927 to an extended family of furniture makers in Pune, Doshi studied at the JJ School of Architecture in Bombay before working for four years with Le Corbusier as a senior designer (1951-54) in Paris and four more years in India to supervise projects in Ahmedabad. He worked with Louis Kahn as an associate on the IIM Ahmedabad project, following which they collaborated for more than a decade.
Doshi had also founded the Vastu Shilpa Foundation in 1978 to evolve indigenous design and planning standards for built environments, appropriate to the socio-cultural and environmental milieu of India. Today, it serves as an effective link between academics and professional consultants.