Journalists protest CBI raids on NDTV, claim govt undermining free speech
Noted constitutional expert Fali S. Nariman on Friday slammed the Central Bureau of Investigation (CBI) for searching the residences of the private television channel NDTV's founder Prannoy Roy.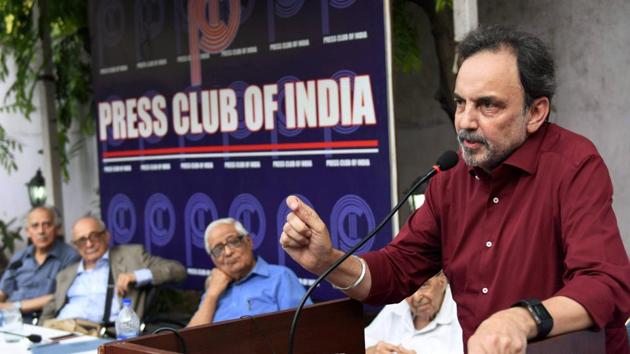 Updated on Jun 09, 2017 10:20 PM IST
Hundreds of journalists came together on Friday to protest against recent CBI raids on the homes and offices of NDTV promoter Prannoy Roy, saying the investigation against him in an alleged bank fraud was reminiscent of the attack on press freedom during the Emergency.
Veteran editors Kuldeep Nayar and HK Dua, senior jurist Fali Nariman and former BJP minister Arun Shourie were among the speakers who defended Roy and his TV channel at the two-hour event at the Press Club of India.
Roy, his wife Radhika and a private company linked to NDTV – RRPR Holding Private Ltd – are accused of defrauding ICICI Bank of Rs 48 crore on a loan taken in 2008. The CBI searched four places belonging to the Roys in Delhi and Dehradun on Monday.
The Roys denied wrongdoing.
"I commit that Radhika, I and NDTV have never touched one rupee of black money. We have never bribed one person in our lives," Roy told the gathering.
"It is a signal to all of us: We (the government) can suppress you even if you haven't done anything."
The raids came at a time when the opposition has accused the government of selectively targeting charities and media groups as part of a campaign to control free speech and dissent.
In their speeches, Nayar, Nariman and Shourie took on the government, accusing it of undermining free speech and intimidating the media just as Prime Minister Indira Gandhi did during a 21-month period of Emergency in 1975-77 when she curtailed fundamental rights and tried to muzzle the press.
"Similar signs are visible now. Here also there has to be a nationalist press, a nationalist judiciary, a nationalist bureaucracy… unless we do something now, unless we are united, we will meet the same fate," said Dua.
Jurist Nariman said given that press freedom was guaranteed under the constitution, any media company or journalist under criminal investigation by the government or government agencies must be given a chance to respond before raids are carried out on them.
"This it must do, not as a matter of courtesy or favour, but as a matter of constitutional obligation," he said.
Shourie, a strident critic of the Narendra Modi government, called for greater unity among journalists.
"They (BJP government) have made NDTV an example. This will intensify in the coming months because of the nature of the regime - its genes are totalitarian," Shourie said.
"Anybody who has tried to lay a hand on the press in India has had their hand burnt."
Roy said he and his wife were willing to answer the charges transparently.
"All I ask for is, please make it a time bound process," he said.
Close Story
Personalise your news feed. Follow trending topics