NRI husbands must now register marriage within a week, update marital status on passport
An inter-ministerial panel on Wednesday came up with the new norm in an attempt to prevent NRI husbands from abandoning their wives.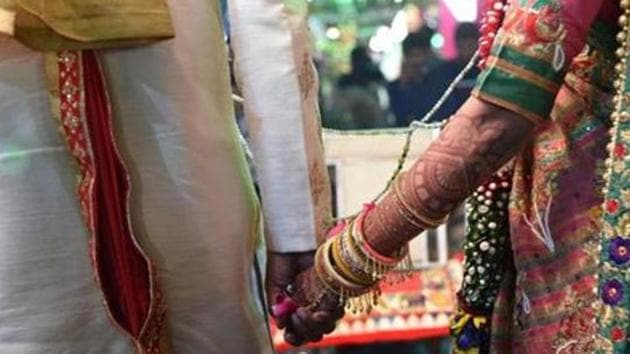 Updated on Jun 14, 2018 07:42 AM IST
Non-resident Indian (NRI) men who wed in the country will have to compulsorily register their marriages within a week and update their marital status on their passports, central government officials said. The decision by an inter-ministerial panel on Wednesday is an attempt to prevent NRI husbands abandoning their wives.
Failure to update their marital status on passports can result in the document getting revoked, one of four officials said on condition of anonymity . "The group of ministers decided that necessary amendments will have to be made in the Passport Act to incorporate the changes," one of the officials added.
The panel was set up last year to review the legal and regulatory challenges faced by women deserted by NRI husbands. It comprises several ministers, including external affairs minister Sushma Swaraj, home minister Rajnath Singh, law minister Ravi Shankar Prasad, women and child development (WCD) minister Maneka Gandhi. Swaraj, Singh, Prasad and Gandhi attended a meeting of the panel on Wednesday.
The panel decided to make it mandatory for NRIs to register their marriages with registrars. "The law ministry has agreed to incorporate the necessary clause by amending the Registration of Births and Deaths Act, 1969," a second official said.
Currently, only a handful of states, including Punjab, which was the first to formulate such guidelines, make registration of NRI marriages compulsory.
After Wednesday's meeting, the law, home and external affairs ministries were asked to come up with draft legal amendments to give effect to decisions taken at the meeting. "The amendments will then go to the cabinet for approval," a third official said.
The panel could not arrive at a consensus on a proposal to attach the property of NRIs who desert their wives and fail to respond to repeated summons, the second official cited above said.
Swaraj and Gandhi had suggested that in case an NRI who abandons his wife does not own any property, his share of parental property be seized, a fourth official said.
"Law ministry officials present in the meeting said the proposal to attach property is legally not tenable. The ministerial panel has directed the law ministry to revisit the proposal and suggest what could be done within a week," said the fourth official.
The panel also decided to allow the ministry of external affairs to put up summons issued to NRI men who have not responded to earlier summons on its website. Such notices are to be "deemed to have been served".
The union home ministry has already agreed to amend the Code of Criminal Procedure that will allow notification of summons put up on the website of the ministry of external affairs to be "deemed to have been served".
The current practice is that once a woman lodges a complaint, the police write to embassies, which sends a summons notice. But such summons hardly get served as the NRI usually moves to a new place or provides an incorrect address.
The panel was set up after a sharp increase in the number of NRI men deserting their wives after marrying them in India.
On December 21, minister of state for external affairs VK Singh told Parliament that Indian missions abroad received 3,328 complaints from Indian women about marital disputes with their NRI spouses since 2015. Of this, 3,268 were addressed by providing counselling to the women, and guidance and information about procedures to address the complaints.
The complaints ranged from grooms disappearing soon after marrying women in India to husbands preventing their wives from travelling to India after seizing their passports; from husbands who abandoned their wives in another country to those who had sent their wives back home but were not giving up the custody of their children.
In comparison, the National Commission for Women, an autonomous body under the WCD ministry, recorded 346 complaints from women married to NRIs in 2014 (the latest year for which figures are available). However, WCD ministry officials conceded that this figure does not reflect the real situation because few women come forward to lodge complaints.
"These measures are good and long overdue. But it will only help future cases. What about the large number of women who have already been deserted by NRI men? Is the government thinking of some measures to help them too? We as a society have to take care of them also," said Arvind Kumar Goel, retired judge and former chairman of Punjab's state commission for NRIs.
Close Story