Oppn flays raids on NDTV promoter Prannoy Roy, govt says law taking its course
Congress' Randeep S Surjewala, West Bengal CM Mamata Banerjee and Delhi chief minister Arvind Kejriwal criticised the central government for "silencing dissent through intimidation".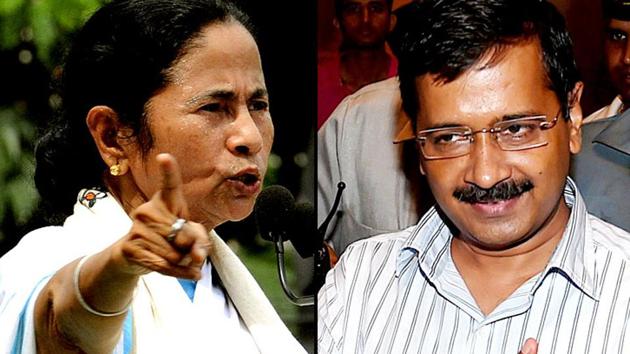 Updated on Jun 05, 2017 11:43 PM IST
The Opposition parties came together on Monday to condemn the Central Bureau of Investigation's (CBI) raids at the office and homes of NDTV news channel founder Prannoy Roy and his wife Radhika in connection with an alleged bank fraud.
The government's claim that the raids did not stem from any political interference did not cut ice with the Opposition, which dubbed the search operations as an infringement on the freedom of press.
Union information and broadcasting minister M Venkaiah Naidu tried to defend the action by pointing out that the law was taking its course. "If somebody does something wrong, then you cannot expect the government to keep quiet simply because they belong to media," Naidu said.
The Opposition, however, remained unimpressed with the government's attempted justification. Trinamool Congress leader and West Bengal chief minister Mamata Bannerjee was among the first to protest the CBI action. "Shocked at the raids on Dr @PrannoyRoyNDTV's house. He is highly respected and reputed. Disturbing trend," she tweeted.
The CBI searched the Roy's residence in Delhi and three other locations for allegedly causing losses to a private bank.
Coming to the channel's defence, AAP chief and Delhi chief minister Arvind Keijriwal said the move was an attempt to "silence anti-establishment voices".
The Congress too condemned the action, and warned the government to "stop this vindictiveness" and "refrain from suppressing" the voice of the media.
"The timing is very important. The raids came two days after NDTV had a discussion on beef ban notification, in which BJP spokesperson tried to misbehave with the anchor," party spokesperson Ajay Maken said. "If this is not vindictiveness, what is it then?" he asked.
Maken insisted that during the UPA rule, NDTV had spoken out against the Congress and its leaders, but their government never resorted to any vindictive tactics. However, he claimed that "there was no action against the channel till the time it played into the government's hands. Former finance minister P Chidambaram's interview was dropped despite being advertised, BJP was showing forming the government in Bihar till 11 am and Congress was predicted to lose in Punjab."
Close Story