Over 340 stranded Indian Kailash Mansarovar pilgrims evacuated from Nepal's Simikot
Updated on Jul 06, 2018 06:08 PM IST
The total of to 675 Indian Kailash Mansarovar pilgrims who have been moved to safety from Nepal's Simikot in the last three days , the Indian Embassy said.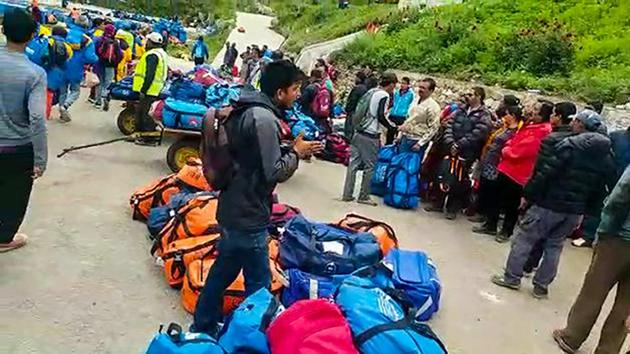 Over 340 Indians pilgrims were moved to safety from Nepal's mountainous Simikot region on Friday, with flights and choppers being used to evacuate those stranded in the country while returning from the Kailash Mansarovar pilgrimage in Tibet amidst inclement weather.
Those rescued have been moved to Nepalgunj and Surkhet, the two towns close to the Indian border and having better health care and infrastructure facilities.
"A total of 342 stranded pilgrims were evacuated by engaging 21 flights, two private choppers from Simikot to Nepalgunj and Surkhet today," the Indian embassy here tweeted.
"Embassy arranged bus services to ferry evacuated pilgrims from Surkhet to Nepalgunj," the mission said.
The number of stranded pilgrims in Hilsa, near the Tibet border, was "almost nil" now, an embassy official told PTI from Simikot.
The official said several of the pilgrims who were moved to Surkhet and Nepalgunj have already begun their onward journey to India.
The Uttar Pradesh government has assisted in the process by deploying its state transport buses, the official said.
On Thursday, 275 pilgrims were evacuated from Hilsa, taking the number of people who have been moved to safety in the last three days to 675, the Indian Embassy had said.
The mission had on Thursday said its camp offices were fully functional in Simikot and Surkhet.
On Thursday, the Indian embassy also issued a revised advisory for the prospective pilgrims today, suggesting medical examination before taking up the yatra.
The embassy has set up a hotline for pilgrims and their family members, which also comprises other language speaking staff for Tamil, Telugu, Kannada and Malayalam speakers.
The pilgrimage to Kailash Mansarovar in Tibetan region of China is considered holy by Hindus, Buddhists and Jains. Every year, hundreds of Indians undertake the 'yatra' which involves trekking under inhospitable conditions.
Personalise your news feed. Follow trending topics