'Overwhelmed': Ex President Ram Nath Kovind on farewell, gestures by PM, Murmu
Published on Jul 25, 2022 09:34 PM IST
Ram Nath Kovind's tenure as India's president ended as he completed his five-year term, paving way for Droupadi Murmu, who took oath as the 15th President of India on Monday.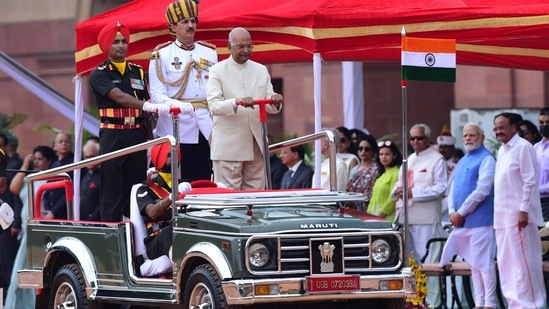 Written by Sharmita Kar | Edited by Swati Bhasin
, New Delhi
On his exit from the Rashtrapati Bhawan and after days of valedictory ceremonies, former President of India, Ram Nath Kovind, on Monday expressed his gratitude for the warm farewell he was accorded. Ram Nath Kovind - in emotional address to the nation on Sunday - had recalled the key moments of his five-year term. He remembered his childhood in a UP village, his learnings from Mahatma Gandhi and his experience with his predecessor Pranab Mukherjee.
On Monday, he said he was "overwhelmed". "I am overwhelmed by the heartfelt farewell accorded to me today at the end of my term as President," read the first tweet in Hindi by the former president.
He also shared his thoughts on leaving his official residence of five years and his successor's note-worthy gesture. "President Draupadi Murmu personally coming from Rashtrapati Bhavan to drop me off at my residence at 12 Janpath, New Delhi is a very touching personal moment for me as well as an example of the high traditions of Indian democracy," he added.
He shared photos of memorable farewell moments where Prime Minister Narendra Modi could be seen. "The presence of the President, the Vice President, the Prime Minister, the chiefs of the three services and the dignitaries in the farewell ceremony will remain in my unforgettable memories. I believe that I will continue to get the blessings of the people of the country."
Ram Nath Kovind – who has spoken about rising to the highest constitutional rank in India from a small village in Uttar Pradesh – left the office on Monday after completing his five-year term. Former Jharkhand governor Murmu was sworn in as President, becoming India's first tribal leader and the second woman to be the head of state. The former president gave his final address to the nation on Sunday, remembering the freedom fighters and Mahatma Gandhi, the father of the nation. He also recalled visiting his hometown and thanked his teachers in Kanpur for his memorable journey.
"Among the most memorable moments of my life has been visiting my home during my term and touching the feet of my teachers at Kanpur to seek their blessings," Kovind had said.
Kovind will now stay at 12, Janpath in New Delhi with his wife Savitha. Congress president Sonia Gandhi, who resides at 10, Janpath, will be a neighbour of the former First Couple.
Personalise your news feed. Follow trending topics