Padmaavat protests: Why the silence, PM must speak on violence, says Congress
Updated on Jan 25, 2018 07:45 PM IST
Several BJP-ruled states, including Rajasthan, Haryana and Uttar Pradesh, have witnessed violence by Rajput groups who are protesting against the release of Padmaavat.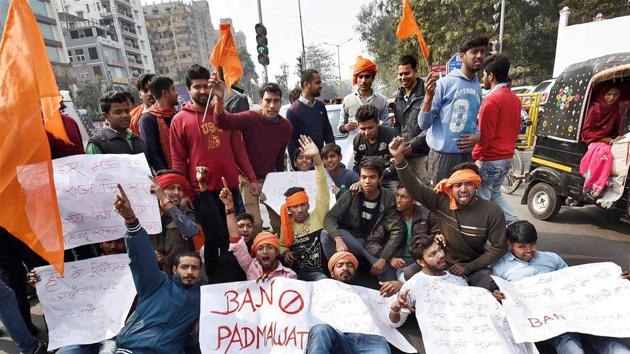 Indo Asian News Service, New Delhi |
Indo-Asian News Service
The Congress on Friday asked Prime Minister Narendra Modi to speak about and take moral responsibility for the violence unleashed in the name of protests against Hindi movie Padmaavat.
Congress spokesperson Priyanka Chaturvedi said the Wednesday attack on a school bus in Gurgaon in Haryana was "more saddening and shameful" that showed how the Modi and the Haryana governments had "failed to maintain law and order".
She also critcised the silence on the violence by information and broadcasting minister Smriti Irani, who otherwise "keeps tweeting 24 hours about what all she is doing, the Modi government is doing, and where all she is going".
"The Smriti Irani-headed I&B ministry which controls the (Censor Board) gives a certificate to a movie. The film is allowed to be released and then violence is unleashed in BJP-ruled states. It shows that the BJP governments, both in Centre and the states, have failed. It is condemnable that neither the Prime Minister is speaking about it nor is anyone from his government... All the state governments are silent. Why this silence? Who is responsible for the law and order?
"The government neglected the Supreme Court order (clearing the screening of the movie) and did nothing to stop this violence."
The Congress spokesperson said Haryana had become the "gang rape capital" of India in the last two years. The law and order situation in the state was steadily deteriorating with a Bharatiya Janata Party (BJP) government.
"This is sad and shameful for the nation. This shows how the (Haryana) government has failed. The government is not serious and is not ready to take responsibility."