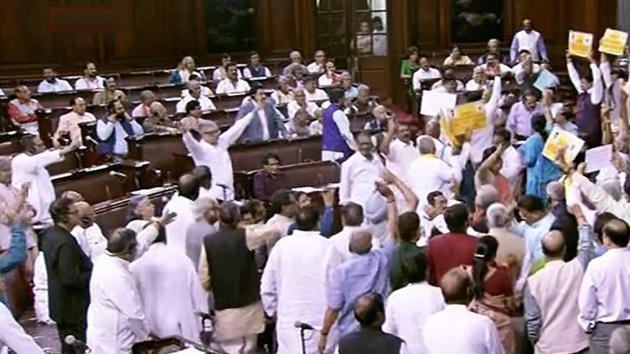 Parliament stalemate: Opposition parties meet, press for discussing urgent issues
Congress leader Ghulam Nabi Azad, accompanied by leaders of other parties, said it was the duty of the opposition to raise concerns of people in Parliament and the government should allow debate
Indo Asian News Service, New Delhi | By Indo Asian News Service
UPDATED ON APR 04, 2018 05:34 PM IST
Leaders of 13 opposition parties met on Wednesday and urged the government and the presiding officers of the Lok Sabha and Rajya Sabha to allow discussion on issues being raised by them, saying they were willing to extend the Budget Session to pass the government's legislative agenda.
Talking to the media after the meeting, Congress leader Ghulam Nabi Azad, accompanied by leaders of several other parties, said it was the duty of the opposition to raise concerns of people in Parliament and the government should allow debate.
Azad, who is leader of Opposition in the Rajya Sabha, said the 13 parties also had the support of the Telugu Desam Party and the AIADMK on the common issues but the two parties did not attend the meeting.
He said the opposition wanted a debate on issues pertaining to the Cauvery Management Board, promise of special category status to Andhra Pradesh, bank frauds of hundreds of crores, CBSE paper leak, "dilution" of The Scheduled Castes and Scheduled Tribes (Prevention of Atrocities) Act and the sealing drive in Delhi.
He said the issues were on the minds of the people and should be discussed in both the Houses.
"We are fighting a battle of people. The government has miserably failed to find a solution to these issues. It is sitting like a silent spectator.
"Let the discussion take place today (Wednesday) and tomorrow (Thursday) and extend the session by two days to pass the bills. We are ready to sit extra days. Pass the bills but do not skip the issues agitating minds of the people."
He said the government should find a way out but "no senior minister has approached me or any of my opposition colleagues. It should be a surprise for the entire country".
He said the parties that attended the meeting were the Congress, Samajwadi Party, Trinamool Congress, Nationalist Congress Party, Aam Aadmi Party, CPI, CPI-M, DMK, Jarkhand Mukti Morcha, Bahujan Samaj Party, IUML, Kerala Congress-M and Rashtriya Janata Dal.
Close