Pemba Sherpa, who scaled Mt. Everest 8 times, goes missing in Karakoram
Jul 15, 2018 03:32 PM IST
Pemba Sherpa was one of the three persons who climbed Saser Kangri on Friday.
Veteran mountaineer Pemba Sherpa, who scaled Mt. Everest eight times, has gone missing while returning from a successful summit of Saser Kangri IV (7,416 metres) in the eastern Karakoram range in Jammu and Kashmir.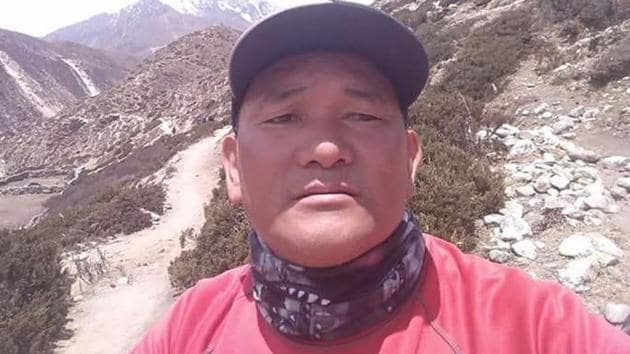 The 45-year-old who has climbed six of world's highest 10 peaks fell into a crevasse on Friday evening while descending from Camp 2 and there has been no trace of him till Sunday morning, triggering fear among mountaineers that the chances of finding him alive may be very thin.
"A team comprising members of Indo-Tibetan Border Police, personnel from the Nubra police station and fellow Sherpas searched for him unsuccessfully throughout Saturday. Search operations were resumed at 4 am on Sunday with no success reported till afternoon," said Asim Kumar Mondal, secretary of Mountaineers' Association of Krishnanagar (MAK).
Pemba, who hails of Darjeeling in West Bengal, was part of a 22-member team comprising mountaineers from West Bengal and Pune. The team included two of his brothers, Tashi and Pashang.
"The accident happened while returning from Camp 2 to Camp 1. Pemba was the last person in the queue. Others moving ahead of him heard him falling but found no trace of him," Mondal said.
Pemba was one of the three persons who climbed the peak on Friday, along MAK member Biswanath Saha and Anil, a mountaineer from Pune.
He had previously climbed Cho Oyu (in China) twice, besides summitting Kanchenjunga, Annapurna I, Makalu and Manasalu. Fellow Everester Basanta Sinha Roy, who was part of the team, is coordinating the rescue operation.
Debraj Dutta of Indian Mountaineering Federation contacted the ITBP which informed the team on an expedition of the nearby Mt Plateau. They joined the rest of the Sherpas in the search mission.
"He was barely 300 metres from the boulder zone that starts after the risky crevasse zone," said Mondal.
Though Pemba is a Sherpa (an ethnic community reputed as mountaineering guide-cum-assistant) himself, he was on the expedition as a member of MAK. Pemba Chhiring, a Sherpa from Leh, was also part of the team.
On social media, members of Bengal's mountaineering community expressed anxiety over the developments as the chances of finding someone alive 48 hours after falling in a crevasse is considered negligible.