Philippines fire, Trump's withdrawal from Paris climate deal: Top stories this morning
Reaction to US withdrawal from Paris Agreement, gunman sets fire to casino in Manila, Naseeruddin Shah on Indian Muslims, Indian American wins spelling bee.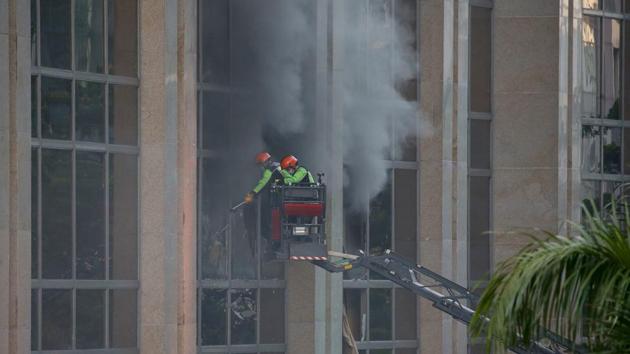 Updated on Jun 02, 2017 11:27 AM IST
Anger as Trump announces US withdrawal from global climate deal
President Donald Trump announced America's shock withdrawal from the Paris climate accord on Thursday, prompting a furious global backlash and throwing efforts to slow global warming into serious doubt. Hillary Clinton, Trump's opponent in last year's White House race, called the decision to pull out a "historic mistake." The Democratic governors of New York, California and Washington states formed a quick alliance, vowing to respect the standards agreed on under the Paris deal.
Germany said the US was "harming" the entire planet, and European Commission President Jean-Claude Juncker called the decision "seriously wrong." Read the story here.
At least 34 bodies found after gunman sets fire to Philippine casino
At least 34 people are dead after a gunman burst into a Manila casino, firing shots and setting gaming tables alight, Philippine media reported, in what officials said was a botched robbery attempt. Police said the unidentified gunman had killed himself after firing at armed officers searching the still-smoking Resorts World Manila entertainment complex hours after the drama that began shortly after midnight local time. Many of the dead suffocated in the chaos as guests and staff tried to flee choking smoke at the complex. Read the story here.
'I cannot recall a time when Muslims were suspected en masse of being unpatriotic': Naseeruddin Shah
In the final part of the #BeingMuslimNow series, Actor Naseeruddin Shah writes a deeply personal piece: "Never before have pleas for peace been interpreted as cowardly or seditious." "It seems essential for Muslims in India to get over the feeling of victimisation they are in now; it is a trap all too easy to stumble into." Read his article here.
Aadhaar must for schools students to avail midday meal in UP from June 30
Students of government and government-aided schools in Uttar Pradesh will need their Aadhaar card for availing midday meals from June 30, authorities said on Friday. Meerut's district basic education officer said the state government had asked all district authorities to implement the decision. He said the school authorities were making efforts to get all students enrolled for Aadhaar card. Read the story here.
Stay away from buildings, take cover under furniture: How to react in case of an earthquake
Taking cover under furniture, staying way from buildings and moving out in the open can help people when an earthquake strikes, according to the National Disaster Response Force (NDRF). A moderate intensity quake of magnitude 5.0 hit Haryana on Friday morning, the tremors of which were felt in Delhi and the national capital territory. The epicentre was in Haryana's Rohtak.
While travelling on road, people must move away from tall buildings, trees and or any structure which could fall and hurt. Open spaces are safest if there is no structure nearby. If in a car, bus or Metro, stop as soon as possible. Read the story here.
Trump administration asks Supreme Court to reinstate Muslim travel ban
President Donald Trump's administration asked the US Supreme Court on Thursday to reinstate its controversial ban on travellers from six Muslim majority nations despite repeated setbacks in the lower courts. In its filing, the government asked the highest court in the land to rule on the legal standing of Trump's order, appealing a ruling by the federal Fourth Circuit Court of Appeals that upheld a nationwide block of the travel ban. Read the story here.
Elon Musk quits Trump advisory councils after Paris accord decision
Tesla Inc Chief Executive Officer Elon Musk and Walt Disney Co CEO Robert Iger said on Thursday they would leave White House advisory councils after US President Donald Trump said he would withdraw from the Paris climate accord. Tesla Inc Chief Executive Officer Elon Musk and Walt Disney Co CEO Robert Iger said on Thursday they would leave White House advisory councils after US President Donald Trump said he would withdraw from the Paris climate accord. Iger wrote on Twitter that "as a matter of principle, I've resigned from the President's Council over the #ParisAgreement withdrawal." He is leaving the business advisory group. Read the story here.
'Dream come true': Indian-American Ananya Vinay wins US National Spelling Bee
Ananya Vinay never looked all that impressed by any of the words she was given in the finals of the Scripps National Spelling Bee. Unflappable to the end, Ananya seized the opportunity when her steely opponent, Rohan Rajeev, flubbed a simple-looking but obscure Scandinavian-derived word, "marram," which means a beach grass. She calmly nailed two words in a row, ending on "marocain," which means a type of dress fabric of ribbed crepe, to win the 90th Scripps National Spelling Bee on Thursday. Read the story here.
Indian cricket team upset with practice facilities at Edgbaston
The Indian cricket team was unhappy with the practice facilities at Edgbaston with captain Virat Kohli and coach Anil Kumble making their displeasure known. Kohli and Kumble reportedly had reservations as the arena was small in size. The main issue was the run-up for fast bowlers. It was learnt that Umesh Yadav, Mohammed Shami and Hardik Pandya, all of whom have a 30-yard run-up, couldn't bowl full tilt at the nets as the distance wasn't big enough. Read the story here.
Editorial: Rajasthan High Court judgment on cow is bound to raise many questions
Declaring a new national animal is the executive's prerogative, not of the judiciary. The obscurantist observations in the judgment could provide an opportunity to critics to question the quality of judges and the appointment system Read the editorial here.
Close Story