PM Modi announces over 50% pay hike for Asha, Anganwadi workers
Those who drew an honorarium of Rs 3,000 will from now on get Rs 4,500 and those who used to get Rs 2,200 will get Rs 3,500, Modi said.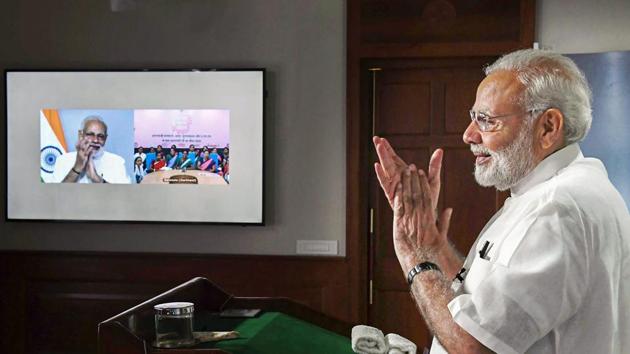 Published on Sep 11, 2018 11:25 PM IST
Hindustan Times, New Delhi |
HT Correspondent
Prime Minister Narendra Modi on Tuesday announced a substantial increase in the honorarium for Anganwadi and Asha (Accredited social health activists) workers from October in a move that is expected to help millions of women from relatively poor households
All Asha workers will also get free coverage under the two flagship insurance schemes of the government, Modi announced during a video interaction with Asha, ANM (auxiliary nurse midwife) and Anganwadi workers from across the country.
There are around 1.4 million Anganwadis or child care centres in rural areas across the country and a total of 1.28 million Anganwadi workers and a little over 1 million helpers. There are also a total of 1 million accredited Asha workers.
Those who drew an honorarium of Rs 3,000 will from now on get Rs 4,500 and those who used to get Rs 2,200 will get Rs 3,500, Modi said. The honorarium of Anganwadi helpers will be hiked from Rs 1,500 to Rs 2,500, he added. In percentage terms, that works out to an increase of 50%, 59%, and 66.67% respectively.
The PM also announced that Anganwadi workers and helpers using techniques such as common application software (ICDS-CAS) would get additional incentives. The incentives, ranging from Rs 250 to Rs 500, would be based on performance, he explained. The software monitors, in real time, the services provided by Anganwadis in the area of nutrition.
Bharatiya Janata Party president Amit Shah said the government's decision would not only boost the morale of the Anganwadi and Asha workers but also improve their living standards and thus the quality of service.
Modi also said the government's flagship health insurance programme Ayushman Bharat will be launched from Jharkhand on September 23, and added that the beneficiaries have already been identified.
Reacting to increase in honorarium of Anganwadi workers and helpers, women and child development minister Maneka Gandhi said she was grateful to the PM?"for leading the Poshan Abhiyan from the front".
"Over the last 4 years, we have been putting the pieces of puzzle together so that the fight against malnutrition can be taken up in a mission mode. The first aspect we dealt was the increase of daily cost norms for the beneficiaries of the ICDS Programme. The second was to have a technology-based real-time monitoring system of Anganwadi services. These two have been put in place," she added.
"The third aspect was the identification and elimination of fake beneficiaries which is an ongoing process. We have already eliminated approximately one crore fake beneficiaries from the system. The fourth piece has been announced today," Maneka said.
Close Story
Personalise your news feed. Follow trending topics