'India is bright spot in global economy': Modi bats for investment at MP summit
Jan 11, 2023 01:07 PM IST
PM Modi news: The prime minister said 'every institution and expert in the world seems to be confident' about India's future.
The Indian economy has 'strong macroeconomic fundamentals' and is expected to be among the fastest growing in the elite G-20 grouping, prime minister Narendra Modi said Wednesday at a global investors summit in Madhya Pradesh. Hailing India as an 'attractive destination for investment', the prime minister said his government's work on key economic reforms despite global challenges had led to India being seen 'as a bright spot' in the world.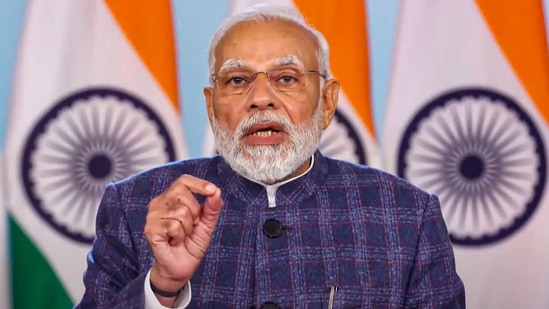 "Not just we Indians but every institution and expert in the world seems to be confident about this... the International Monetary Fund sees India as a bright spot in global economy..." the prime minister said.
"World Bank said India is in better position to deal with global headwinds than many other countries... Organisation for Economic Co-operation and Development said India will be among fastest-growing G-20 economies this year... Morgan Stanley said India (will be) world's third largest economy."
"CEO of McKinsey's has said this is not only India's decade but India's century. Institutions and credible voices that track the global economy have unprecedented confidence in India. This is because of India's strong macroeconomic fundamentals," the prime minister said.
READ | 'India on path of reform…': PM at investors summit - Top quotes
At the summit the prime minister also called on all Indians to work together, saying, "When we talk of a developed India, it is not just our aspiration but resolution of every Indian."
He also emphasised the role of the private sector, saying, "We have opened several strategic sectors like defence, mining and space for the private sector."
READ | Madhya Pradesh's 'Global Investors Summit' begins today
In November the Indian Space Research Organisation launched India's first privately-built rocket - Vikram S; the sector opened to private players in 2020.
The prime minister was addressing the 'Invest (in) Madhya Pradesh - Global Investors Summit 2023' via a video-link. Earlier, chief minister Shivraj Singh Chouhan said the summit would prove key for the state's economy.
"There are buyers... sellers... over 5,000 industrialists and 70 big industrial houses participating. There is immense enthusiasm... I have to make the state a $ 550 billion economy by 2026 and this summit will be a milestone," he said.
READ | MP set to host 'Global Investors Summit', 314 investors to take part
Suriname president Chandrika Prasad Santokhi and Guyana's Dr Mohammed Irfan Ali attended the inaugural session and will address the summit.
With input from ANI