PM Modi visited mother Heeraben, who is admitted to Ahmedabad hospital
Dec 28, 2022 10:57 PM IST
Prime Minister Modi met his mother earlier this month, ahead of the second and final phase of Gujarat assembly election.
Heeraben Modi, prime minister Narendra Modi's mother, was admitted to Ahmedabad's UN Mehta Hospital on Wednesday afternoon, for what some reports indicate is a routine check-up. The hospital issued a statement confirming her admission to its Institute of Cardiology and Research Centre.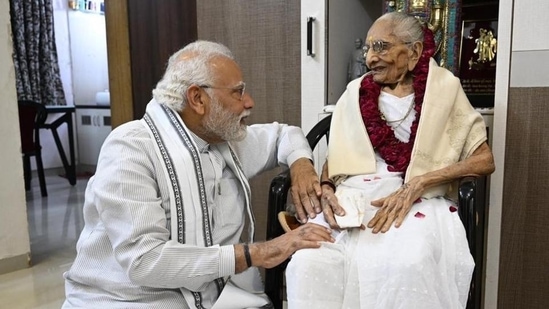 "Heeraben Modi, mother of prime minister Narendra Modi, is admitted at UN Mehta Institute of Cardiology and Research Centre in Ahmedabad and her health condition is stable," the hospital said.
Modi travelled quickly to Ahmedabad and the hospital to be with his mother; news agency ANI shared a video of his convoy driving into the compound.
Reports also indicate security around the hospital has been tightened and that Gujarat chief minister Bhupendra Patel - who led the prime minister's Bharatiya Janata Party to a landslide victory in this month's election - is present.
Politicians across party lines have sent 'get well' messages to the PM and his mother, including Congress MP Rahul Gandhi, who tweeted 'the bond between a mother and her son is precious…' NCP MP Priyanka Chaturvedi also tweeted.
READ | 'Modiji, I extend my love, support... ': Rahul Gandhi's message to PM
Modi met his mother earlier this month, ahead of the second and final phase of the Gujarat election, during which Heeraben Modi had also cast her vote.
READ | Ahead of Gujarat polls phase 2, PM seeks blessings from mother
Born on June 18, 1923, Modi's mother is in the 100th year of her life.
READ | 5 'heart-warming' photos of PM Modi with his mother, Heeraben Modi
On the occasion the prime minister tweeted: "I have no doubt that everything good in my life, and all that is good in my character, can be attributed to my parents. Today, as I sit in Delhi, I am filled with memories from the past."
"Maa…this isn't a mere word but it captures a range of emotions. Today, 18th June is the day my Mother Heeraba enters her 100th year. On this special day, I have penned a few thoughts expressing joy and gratitude."
READ | 'Simple… extraordinary': PM's blog for mother on her 100th birthday
"A mother's penance creates a good human being. Her affection fills a child with human values and empathy. A mother is not an individual or a personality, motherhood is a quality. It is often said that the Gods are made according to the nature of their devotees. Similarly, we experience our mothers and their motherhood according to our own nature and mindset," the prime minister said.
News of the prime minister's mother's hospitalisation comes a day after his brother, Prahlad Modi, and members of his family were involved in a minor road accident near Mysuru city in Karnataka. One person had a minor injury.