PM Modi says Congress made noise about colour of farm laws, but didn't discuss their content and intent
Feb 10, 2021 06:03 PM IST
PM Modi says Congress made noise about colour of farm laws, but didn't discuss their content and intent
Prime Minister Narendra Modi on Monday criticised the detractors of farm laws and said that much has been said about the color of the farm laws but no one has discussed the 'content and intent' of the laws.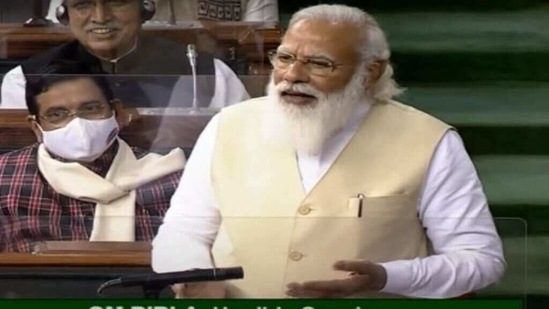 PM Modi said, "Much has been said about the color of the laws but not much has been discussed about the content and intent of the laws."
The Prime Minister also said that the Centre has always wanted the benefit for farmers and the farm laws were framed to benefit the small farmers of the nation. He also said that questions are being raised regarding the necessity of implementing the farm laws and he said that laws are being brought to spur the development of the nation.
He said, "There is a strange question being raised in the Parliament. Lawmakers have asked why are laws being brought when no one has asked for it. The point is laws are not brought depending on who wants it or not. Laws are brought to help the nation develop and grow."
"No one asked us to bring law on abolishing triple talaq, to abolish the practice of system of dowry and no one asked us to bring law banning child marriage. We implemented a law ensuring the right to education for all. These laws were not brought because someone asked for it. We brought these laws because there was a need for these laws to foster development and growth," the Prime Minister further added.
Prime Minister Narendra Modi also pointed out that several political parties have desired to bring similar changes to the agricultural sector. He said that former agriculture minister Sharad Pawar had himself highlighted the importance of repealing the APMC Act in the Parliament during the UPA regime.
PM Modi also said that he has utmost respect for agitations demanding equal rights and said that protests and agitations are hallmarks of a healthy democracy. He outlined that he is worried that 'andolankaris' are being maligned because of the act of 'andolanjeevis'. The prime minister also said that the Union ministers are engaged in talks with farmers and have their best interests at heart.
The Prime Minister's speech in the Lok Sabha was interrupted several times by Opposition leaders. Congress politicians walked out between the Prime Minister's speech.