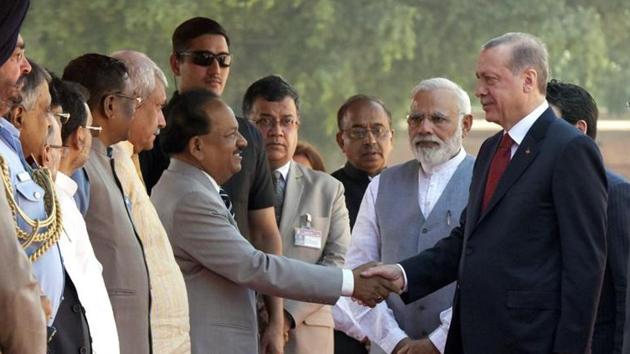 PM Modi calls for more 'aggressive effort' to deepen economic ties with Turkey
PM Modi was speaking at an India-Turkey business summit with Turkish president Recep Tayyip Erdogan.
UPDATED ON MAY 01, 2017 01:44 PM IST
Prime Minister Narendra Modi on Monday called for more aggressive efforts to deepen economic ties between India and Turkey, saying the present level of economic and commercial relations between the two countries are "not enough".
PM Modi was speaking at an India-Turkey business summit with Turkish president Recep Tayyip Erdogan, who is visiting New Delhi. Erdogan's India visit on Sunday and Monday comes at the start of a diplomatic blitz he is embarking on after winning a referendum on April 16 which gave him more executive powers as the president.
India-Turkey trade stands at $6.4 billion, which officials say is much below potential. Ankara wants a Free Trade Agreement (FTA) and a Comprehensive Economic Partnership Agreement to bridge the deficit with New Delhi.
With chances of Turkey becoming a European Union member diminishing, Ankara is actively looking to Asia in terms of economic development and security - and India is seen as a major partner in this regard.
"As we strive to build stronger political ties, the time has come to also make more aggressive effort to deepen the economic relations," Modi said.
Presenting India as an economy, which is the "fastest growing" and therefore a "promising" destination for investment and doing business, the Prime Minister said the government's focus apart from maintaining this pace, is also to remove inefficiencies from the system.
India has been wooing nations to invest more by easing the norms of doing business and promising to make the environment easier and more conducive to trade.
"Today's knowledge-based global economy is continuously opening new areas. We must factor this in our economic and commercial interactions," Modi said.
The PM also gave the visiting dignitary an overview of the administrative reforms aimed at giving the economy a fillip.
"We have planned to build 50 million houses by 2022. For this, we have repeatedly refined our FDI policy in construction sector …We are putting up new ports and modernising the old ones through an ambitious plan called Sagarmala," he said.
He referred to the areas of possible cooperation and said the hydrocarbon sector is a common area of interest for both countries and spoke of possible coordination in the solar and wind energy sectors.
Asking the Chambers of Commerce and Industry of both sides to engage with each other pro-actively, PM Modi also made a reference to the softer diplomacy areas such as tourism adding that the number of Indian tourists going to Turkey has increased in the last few years.
The issue of India's membership bid for the elite Nuclear Suppliers Group (NSG) is likely to figure during the talks between the two leaders as Turkey is a member of the elite group.
Turkey is not directly opposed to India's NSG membership but has been maintaining that the powerful bloc should come out with a system to consider the entry of the countries which are not signatory to the Nuclear Non-Proliferation Treaty (NPT) as also supporting Pakistan's case.
Erdogan last visited India in 2008 when he was the Prime Minister.
(With agency inputs)
Close