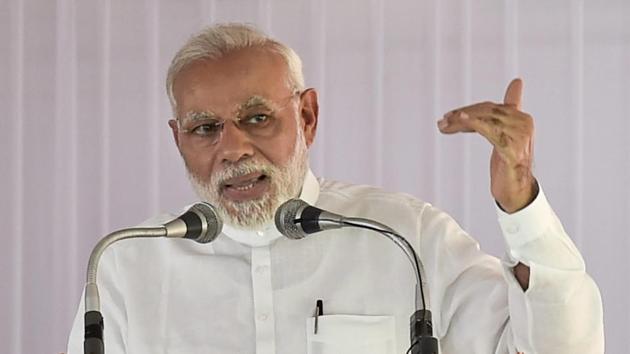 PM Modi tells BJP MPs to spend a night in villages with high SC/ST populations
UPDATED ON APR 06, 2018 11:37 PM IST
In a bid to reach out to the Dalits and Adivasis, Prime Minister Narendra Modi on Friday asked BJP ministers, MPs and senior leaders of the party to spend a night in villages with over 50% population of Scheduled Castes and Scheduled Tribes (SCs and STs).
Union minister Ananth Kumar said the programme will be held during the party's Gram Swaraj Abhiyan programme bet- ween April 10 and May 5. As part of the event, BJP leaders will hold mass contact programmes in villages with 1,000-plus population and ensure 100% enrolment in the government's "saptrishi programmes" that includes "Indradhanush", "Jandhan" and BHIM App.
Kumar told reporters that Modi said about 20,844 villages have over 50% population of SC/STs and MPs should work to implement schemes, including Jan Dhan and Ujjwala, among others.
The outreach bid comes amid a raging controversy over a recent Supreme Court order on the Schedules Castes and Scheduled Tribes (Prevention of Atrocities) Act, and the government inviting criticism for the delay in filing a review petition. At least 11 people were killed in protests across three states since the Bharat Bandh against the order on April 2.
BJP MP from Etawah, Ashok Kumar Dohrey, also wrote to the Prime Minister alleging that police across the country, particularly in Uttar Pradesh, were registering false cases against Dalits and STs after the April 2 bandh. Dohrey is third Dalit BJP MP, after Savitri Bai Phoole and Chhotelal, from Uttar Pradesh to have raised concern about atrocities against the Scheduled Castes.
At the BJP's parliamentary party meeting on the party's foundation day, the PM asked MPs to take out 'Sabka saath sabka vikas yatra' in their areas. All MPs will spend a night in these villages while ministers will spend two nights in different parts of the country, a BJP leader who attended the meeting quoted PM Modi as saying.
The BJP, he said, will observe the birth anniversary of Jyotiba Phule, a social reformer from a backward caste, on April 11 as 'Samta Diwas' (equality day). All MPs have been asked to organise events to mark the birth anniversary of Bhimrao Ambedkar, a Dalit icon, on April 14, asserting that it is mandatory for them to do so, sources said.
PM Modi also asked the BJP to organise a nationwide protest on April 12 against Congress' conduct in Parliament, which led to a complete washout of the second half of the budget session.
The PM said BJP's strength was on a rise and the Congress was resorting to divisive and negative politics, Ananth Kumar said. Modi accused the Congress of "throttling" democracy and "abusing" people's mandate by blocking the Parliament.
He told the MPs that opposition members almost surrounded him during his reply to the Motion of Thanks on the President's Address to Parliament, and such a disruption during a Prime Minister's speech was unprecedented.
Modi replied in both Houses during the session's first half. He said he continued with his speech for over 90 minutes for the sake of democracy amid relentless protests by opposition MPs, according to sources. The opposition has been left with no issues and that is why it was resorting to disrupting the Parliament, Modi said, asking BJP MPs to expose such parties.
Close