Germany first stop in Modi's 4-nation tour, business pacts likely to be signed
Indo Asian News Service |
, New Delhi
Indo Asian News Service
May 29, 2017 11:54 AM IST
In the first leg of his six-day trip, he will visit Germany, where he will hold talks with Chancellor Angela Merkel under the framework of India-Germany Intergovernmental Consultations.
Bilateral cooperation on economic, defence, science and technology, and nuclear fronts, parleys on EU-India Free Trade Agreement, and fight against terror top Prime Minister Narendra Modi's agenda during his four-nation tour of Europe from Monday.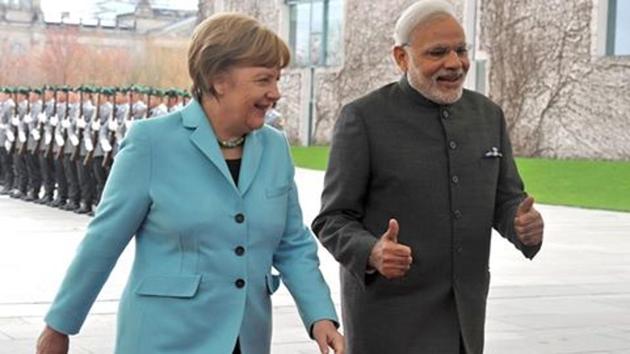 Modi visits Germany on Monday for the biannual Inter-Governmental Consultations (IGC); Spain on what will be an Indian Prime Minister's first visit in nearly 30 years; Russia for the annual bilateral summit; and France for his first meeting with newly elected President Emmanuel Macron.
Berlin is Modi's first port of call, where he and German Chancellor Angela Merkel will head the fourth biennial Inter-Governmental Consultations (IGC) on Tuesday.
India and Germany have over 25 Working Groups, including in areas like climate change, energy, infrastructure, and tourism.
According to German ambassador to India Martin Ney, like in the last IGC in 2015, there will be a "series of substantial MoUs (memorandums of understanding) and joint declarations of intent" after the talks in Berlin.
One of the most important areas in which these agreements are likely to be signed is business.
"The Indo-German Chamber of Commerce is the biggest German bilateral chamber outside Germany. It has more than 7,000 German and Indian member companies," Ney said, adding that over 1,800 German companies are doing business in India.
"India is interested in German technology and knowhow, and we are interested in sharing this," he said.
Speaking ahead of Modi's visit, Randhir Jaiswal, Joint secretary (Europe West) in the External Affairs Ministry, said that Germany is the largest trading partner of India in the European Union.
"German economic profile, support, excellence, and expertise match with our development priorities, be it 'Make in India', 'Skill India', 'Clean India', 'Digital India', and 'Smart Cities'," Jaiswal said.
According to ambassador Ney, both countries cooperate closely in terms of G20 coordination, UN Security Council reforms, freedom of navigation, including the UN Convention on the Law of the Sea (Unclos), strategic importance of the Indian Ocean region, the fight against terrorism, and stability in Afghanistan.
"Germany supports India's membership in different export control regimes, including the NSG (Nuclear Suppliers Group)," he said.
After a meeting with German President Frank-Walter Steinmeier, Modi will leave for Spain on May 30. The last prime ministerial visit to the country was by Rajiv Gandhi in 1988.
On May 31, the Prime Minister will hold a bilateral summit with Spanish Premier Mariano Rajoy.
Modi will also call on Spanish King Felipe VI and interact with a select group of Spanish CEOs keen to invest and expand their businesses in India. Around 200 Spanish companies are operating in India.
Stating that economic partnership formed an important pillar of the bilateral relationship, Jaiswal said: "Spain enjoys a reputation in the fields of renewable energy, high speed rail, infrastructure, tunneling, technology solutions, including civil aviation air space management, and waste water management."
Cooperation in counter-terror will be an important element of the agenda in Spain.
From Spain, Modi will travel to Russia on May 31 and hold the 18th annual bilateral summit with Russian President Vladimir Putin on June 1 in St. Petersburg.
The following day, the Prime Minister will for the first time attend the St. Petersburg International Economic Forum (SPIEF), a business event.
GV Srinivas, joint secretary (Eurasia) in the Ministry of External Affairs, said Modi's participation in SPIEF signals that there will be emphasis on trade and investment during the Russian leg of the tour.
Stating that while India-Russia cooperation in the areas of defence, nuclear and space was "very, very ahead", Srinivas said that bilateral trade has, however, come down for a variety of reasons from $10 billion to around $7 billion now.
Science and technology cooperation and people-to-people contacts are also areas that will come up for discussion during the Modi-Putin meeting.
From Russia, Modi will fly to Paris on June 2 evening and hold a bilateral meeting with French President Macron the next day.
Stating that France was a leading strategic partner of India, Jaiswal said that the two countries have very strong cooperation in the areas of space, civil nuclear, defence, and economy.
According to Jaiswal, during the France, Germany and Spain legs of the tour, the ongoing discussions between the European Union and India on a Free Trade Agreement would also figure prominently.
European nations are among those with which India has terminated bilateral investment protection treaties (BITs) following a new BIT model New Delhi released in December 2015.
Stating that EU member-states have passed on the responsibility of investment protection negotiations to the EU, Ambassador Ney said that the European Commission and the Indian government should "sit down as soon as possible" to negotiate a free trade agreement.