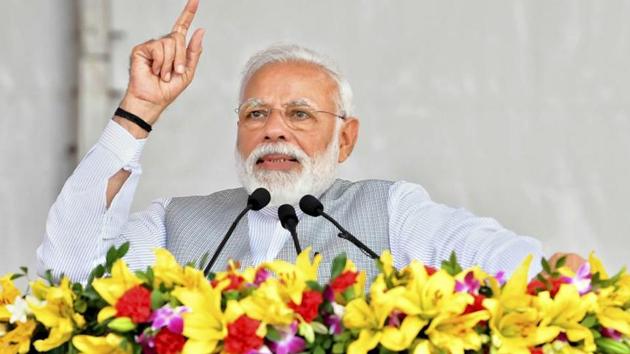 PM Narendra Modi's blog post hits out at Congress' 'dynastic politics'
"From the press to parliament. From soldiers to free speech. From the constitution to the courts. Institutional insult is the Congress way," Modi wrote. "Everyone is wrong, only the Congress is correct."
PUBLISHED ON MAR 21, 2019 12:25 AM IST
Prime Minister Narendra Modi asked voters on Wednesday to remember the past and how "one family's" desire for power cost the nation greatly. Seeking a second term in Prime Minister's office, Modi wrote in a blog that institutional insult was the Congress's way.
"From the press to parliament. From soldiers to free speech. From the constitution to the courts. Institutional insult is the Congress way," Modi wrote. "Everyone is wrong, only the Congress is correct."
"If they could do then, they can surely do now," Modi said, writing about issues such as emergency under former Prime Minister Indira Gandhi, and the tussle between the Comptroller and Auditor General of India and the previous United Progressive Alliance government over its reports on the telecom scam and irregularities in coal block allocation.
Modi said the Congress did not believe in internal democracy. "The sense of entitlement can be seen in their conduct towards routine legal processes... their top leadership is out on bail. When the authorities seek to question them on their dealings, they do not even bother to reply."
When a Government works with the spirit of "India First" instead of "Family First", Modi said, it shows in its working. "India has seen that whenever dynastic politics has been powerful, institutions have taken a severe beating," he said.
Reacting strongly to the Modi's tweet on dynasty politics, Congress general secretary and eastern UP incharge Priyanka Gandhi Vadra said, "The Prime Minister should stop thinking that people are fools and understand that they see through all this."
Close