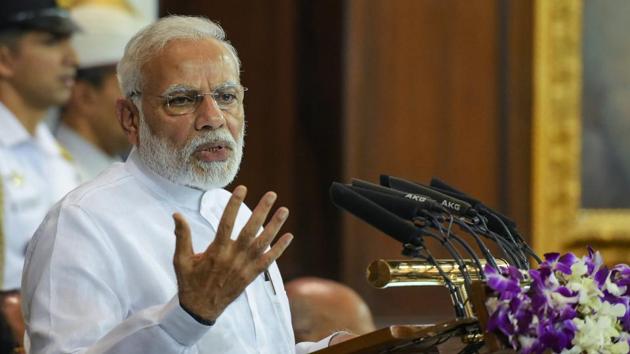 Politics over lynchings shows perverse mindset, says PM Modi on opposition criticism
Prime Minister Narendra Modi said it would be a great travesty to reduce such crimes to mere statistics and then indulge in politics over them.
Hindustan Times, New Delhi | By HT Correspondent
UPDATED ON AUG 12, 2018 12:16 PM IST
Lynchings are "deeply unfortunate" but citing them for political gain is a "travesty", Prime Minister Narendra Modi has said in rare comments about mob attacks that have killed dozens across India.
"My party and I have spoken in clear words, on multiple occasions against such actions (lynching) and such a mindset. It is all on record. Even a single incident is one too many and deeply unfortunate. Everyone should rise above politics to ensure peace and unity in our society," said Modi in an interview to news agency ANI when he was asked a question about Opposition parties criticising his government for crimes against women and lynchings.
"It would be a great travesty to reduce these incidents to mere statistics and then indulge in politics over them. That shows a kind of perverse mindset that looks at violence and criminality as something to be milked, instead of unitedly opposing," he said.
Mohammed Azam, a UK-educated IT worker from Hyderabad, died and at least two of his friends were badly injured when a mob beat them in Bidar district of Karnataka on July 13. Eight police officers who went to Murki village were also attacked – the latest in a series of attacks based on false rumours about child kidnappers.
Police and government warnings to people not to believe in such messages have gone unheeded: in Tripura, a mob lynched a person hired by the government to dispel such rumours.
The government says it is not tracking data for lynchings, but data portal IndiaSpend has tallied more than 30 deaths from nearly 70 such incidents since January 2017.
The Supreme Court on July 17 asked Parliament to come up with an anti-lynching law to tackle cow vigilantism and lynch mobs and laid down preventive, remedial, and punitive measures against the backdrop of a spate of such incidents across the country.
"Horrendous acts of mobocracy" can't be allowed, a bench of Chief Justice Dipak Misra and justices AM Khanwilkar and DY Chandrachud had said.
Close