Positive result on AIADMK factions merger in a day or two: Panneerselvam
The much expected merger on Friday night had failed to come off following reported divergent views among the members of the OPS faction.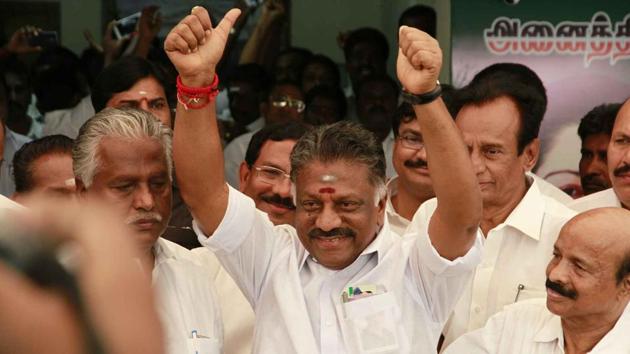 Updated on Aug 20, 2017 12:59 AM IST
Former chief minister O Panneerselvam on Saturday asserted that there will be some good news on the merger of the two AIADMK factions in a day or two.
After prolonged discussions within the OPS camp failed to reach a consensus among the rebel group, three senior ministers of Edapaddi Palanisami government – SP Velumani, P Thangamani and member of Parliament R Vaithialingam held talks with O Panneerselvam and his senior leaders till late into Friday night.
According to sources, the talks were positive but finer details are still to be worked out.
The OPS faction is insisting on formal ouster of jailed AIADMK general secretary VK Sasikala and also bargaining hard for important portfolios with the EPS faction. Sources said that chances of OPS being made the deputy CM with finance portfolio were bright but tussle is regarding portfolios for two other leaders of OPS camp.
OPS told media persons on Saturday that "you will hear good news in one or two days. Merger talks are going on in positive directions." The merger is for strengthening of the party and this will be explained to the masses and cadres, he said.
A formal agreement will be reached within a short time, OPS said adding "we will come to an understanding in one or two days." It is being understood that the former chief minister may be made the head of a panel to look after the affairs of the AIADMK, till the leadership issue is settled.
On OPS' main demand of Sasikala's ouster, sources said that a formal announcement on this could come from chief minister Edapaddi Palanisami when he addresses MGR centenary celebrations at Thiruvarur on Saturday evening.
At a time when the two factions are inching closer to a merger, AIADMK deputy general secretary and Sasikala's nephew Dinakaran recently sacked by chief minister from the party post, has threatened to activate the "sleeper cells" and destabilize the party and government.
Dinakaran's supporter Najil Sampath, a member of AIADMK's ruling faction who was part of a congregation at Dinakaran's house on Saturday, blamed the BJP for the political game in Tamil Nadu and said that it would fail in its efforts.
"The two factions are becoming a laughing stock," Sampath said.
To a question if the merger moves were accelerating ahead of the arrival of BJP president Amit Shah in Tamil Nadu next week, Sampath dismissed that party as of no consequence in the state.
"Amit Shah is no god and this is not Gujarat," Sampath told reporters at Dinakaran's house. Dinakaran is also slated to hold another show of strength at a public meeting in North Chennai on Wednesday.
But worryingly for Dinakaran, his support among the MLAs is waning. Out of the 19 MLAs who attended his rally earlier this week at Melur in Madurai, only five turned up at his residence on Saturday.
Meanwhile, there are reports that opposition DMK is preparing to move a 'no confidence motion' which could be supported by Dinakaran's supporters.
Close Story