Post victory in Bhandara-Gondiya, Congress-NCP alliance may flourish
Hindustan Times, Mumbai |
Surendra P Gangan
Jun 01, 2018 12:03 AM IST
Victory in the Lok Sabha bypoll in Bhandara-Gondiya, a constituency in the BJP stronghold of Vidarbha, may give a much-needed boost for the opposition Congress and NCP.
Victory in the Lok Sabha bypoll for Bhandara-Gondiya, a constituency in the Bhartiya Janata Party (BJP)'s stronghold of Vidarbha, may give a much-needed boost for the opposition Congress and the Nationalist Congress Party (NCP).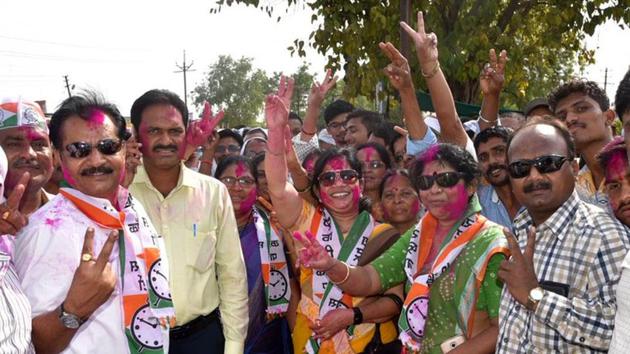 The victory is being attributed to the united show by the two opposition parties which had fought separately in the assembly elections in 2014 and suffering from a 'trust deficit' until they joined hands against the BJP.
NCP-Congress candidate Madhukar Kukde defeated the BJP's Hemant Patle by more than 40,000 votes.
The result was announced on Thursday.
The bypoll was necessitated in the constituency after sitting BJP MP Nana Patole revolted against the party and resigned in December last year.
Patole had attacked the BJP leadership calling it 'anti-farmer' while submitting his resignation. He later joined the Congress, the party he had left ahead of the 2014 elections.
The Congress agreed to let the NCP contest the seat since Bhandara-Gondiya was with the latter in the electoral agreement between the two parties for the 2004, 2009 and 2014 Lok Sabha polls. In this backdrop Patole had resolved to defeat the BJP candidate and to achieve this, he even buried his differences with NCP leader Praful Patel, against whom he fought LS elections in 2014 from Bhandara-Gondiya.
"Both the parties sincerely fought against the BJP by highlighting the failure of its government in containing the agrarian crisis. This could set new equations of the alliance in the state in the forthcoming general elections. The victory on the similar lines of what happened in the Kairana in Uttar Pradesh in bypolls held on Monday," said a Congress leader, who did not want to be named.
Patole said the victory was a result of the whole-hearted support for both the parties.
Both the parties have already announced that they will be contesting all the forthcoming elections together.
The announcement came after the NCP hobnobbed with the BJP for three years after the 2014 assembly polls.
However, the trust deficit between the two parties has not gone completely.
"Bhandara-Gondiya was one off case, it needs to be watched if the NCP will sincerely help the Congress candidates in the elections. Questions are being also raised if the party had supported Congress candidate in the Palghar bypoll," remarked a top Congress leader.
The alliance had come to power in the state in 2004 and 2009 when they contested assembly elections together.