Our government not prejudiced on basis of religion, says PM Modi
Prime Minister Narendra Modi held a meeting with a group of eminent Muslims to assuage the community's fears.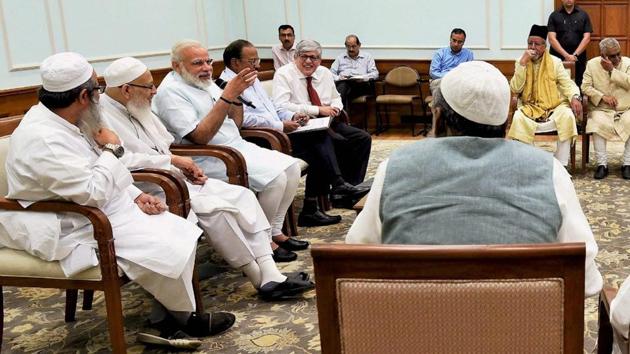 Updated on May 10, 2017 11:01 AM IST
Prejudice on the basis of religion or caste is "out of question" for his government, Prime Minister Narendra Modi told a group of eminent Muslims on Tuesday.
His assurance that "all communities are treated equally" assumes significance after a recent spurt in attacks on Muslims by self-styled gau-rakshaks in several states.
"One of the main issues in our meeting was the perceived fear among Muslims across the country. I told him that you are the Prime Minister of the entire country and no citizen, irrespective of the religion, should feel unsafe. He (PM) said, 'We treat all communities equally. We don't believe in any prejudice on the basis of religion or caste'," Maulana Qari Syed Mohammad Usman, president ofJamiat Ulama-i-Hind told HT.
PM Modi also agreed to set up a special committee to listen to the Muslims and their issues, Maulana Usman added.
In the meeting that lasted more than an hour, the Muslim leaders underlined the need for a platform where the community members could register their grudges and highlight their issues because "it is not possible to call on the PM every time".
The PM promptly agreed to such a mechanism and said the panel will be formed with representatives from the government and community leaders.
Even after assuming power Modi had stated that his government will treat all communities equally, however, his government has often received flak from Opposition and social activists over attacks on Muslims due to issues like beef consumption.
"Welcoming the members of the delegation, the PM said that democracy's greatest strength is harmony and amity. Emphasising that the government does not have any right to discriminate among citizens, the PM said that India's speciality has been its unity in diversity," said a government press release.
Muslim leaders, however, maintained that the issue of triple talaq should be handled by the community alone. "It's the matter related to Muslim community. No outside laws can solve it. We are already spreading awareness against the misuse of triple talaq," said Maulana Usman.
Close Story
Personalise your news feed. Follow trending topics