Pressure builds on BHU VC, Rahul slams Gujarat model, cricket rules to change: Top stories to bring you up to date
Published on Sep 27, 2017 07:09 AM IST
From updates on BHU violence to the introduction of new rules in cricket.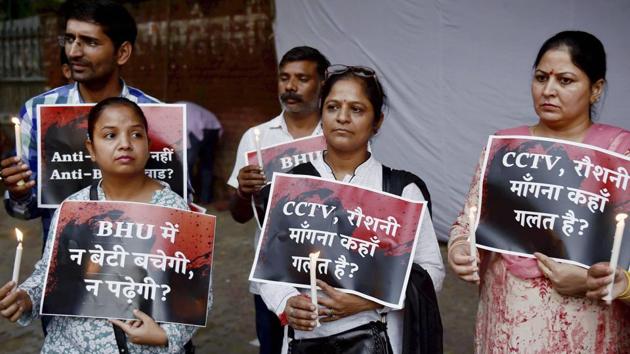 BHU violence: Pressure mounts on VC as Varanasi commissioner blames admin; NHRC seeks explanation
Pressure mounted on the beleaguered Banaras Hindu University's vice chancellor on Tuesday after the Varanasi commissioner blamed the institute's administration for last weekend's campus violence and the National Human Rights Commission sought an explanation. Vice chancellor Girish Chandra Tripathi, who was in New Delhi for the university's executive council meeting, said a judicial investigation was initiated under retired Allahabad high court judge VK Dikshit. As the protests threatened to spread to other universities, the BHU violence became a political talking point with opposition parties Congress and Samajwadi Party accusing the BJP government of mishandling the situation. Read the story here.
UP universities report most cases of sexual harassment in India: UGC data
One in every four alleged cases of sexual harassment in India's universities come from colleges in Uttar Pradesh, according to official data, underscoring a problem that emerged in focus this week after a woman's alleged molestation led to violence in Banaras Hindu University. According to data collected by the University Grants Commission between April 1, 2016 and March 31, 2017 for a first survey to size up the problem of sexual harassment on campuses, 103 women students alleged they were victimised. Among those, 24 were from UP, but none from the BHU. Cases were reported from Aligarh University, Ambedkar University, and Sharda University among others. Read the story here.
Rahul Gandhi invokes Sardar Patel, slams Modi's Gujarat model
Congress vice president Rahul Gandhi invoked Sardar Vallabhbhai Patel to woo people of the state which is bound for polls later this year. Addressing a Patidar-dominated crowd, Rahul said Gujarat had given Sardar Patel and it would have to play an important role in taking the country forward. "You (patidars) gave Sardar Patelji... Gujarat gave Sardar Patelji. Gujarat will have to take lead in taking nation to new heights," he said. Calling Prime Minister Narendra Modi-promoted "Gujarat model of development" a failure, Rahul called for the return of the old Amul model, which he said catered to all sections of the society. Read the story here.
Kashmir's longest surviving militant Abdul Qayoom Najar killed in Uri
Abdul Qayoom Najar, one of the most dreaded and among the longest-surviving Kashmiri militants, was killed in an encounter with security forces along the Line of Control in north Kashmir's Uri on Tuesday, police said. Najar, 43, joined the insurgency when he was 16. Imtiyaz Hussain, the senior superintendent of police (SSP) Baramulla told HT that Najar was behind more than 50 killings, IED blasts, weapon snatchings and attacks on mobile towers. Najar, the SSP added, is said to have joined the militancy in the early 90's and had gone to Pakistan in 2015. Read the story here.
Can't sell candy or cola in cigarette shops as govt plans to curb tobacco abuse
Tobacconists must register with the local civic authority and they can't sell candies and colas on the side that attract non-smokers to the shop, the government proposed in an attempt to reduce tobacco abuse in India. The Union health ministry wrote on September 21 to the states to develop a mechanism to provide permission or authorisation through the municipal authority to retail shops selling tobacco products such as cigarette, bidi, chewable gutkha and khaini. "The idea is to track every single shop selling tobacco products by making them register with the local municipal authority. Government should be able to identify all cigarette shops running anywhere in the country," said Arun Jha, economic advisor with the ministry. Read the story here.
Allahabad: Three trains on same track come close to collision
Three trains came dangerously close to collision near Allahabad on Tuesday after one of them had to stop suddenly near a Railway crossing, causing the two that were following on the same line to apply brakes. Passengers in one of the trains said luggage from upper berths were thrown off due to the sudden braking, which caused panicked passengers to get down. The incident took place near the crossing at the Cantonment, which is not far from the station. Duronto Express, which arrived at the Allahabad crossing at about 10am, had to be stopped when it hit a rickshaw crossing the track despite barriers being down. Read the story here.
Ashok Choudhary removed as Bihar Congress chief
Ending a long spell of uncertainty, the Congress high command on Tuesday removed Ashok Choudhary as president of Bihar Pradesh Congress Committee (BPCC) and dissolved all its committees to pave the way for a belated change of guard. "Congress President Sonia Gandhi has relieved Ashok Choudhary from the post of Bihar Pradesh Congress Committee chief with immediate effect," AICC general secretary Janardan Dwivedi said. The removal comes amid reports that the party high command was unhappy with him and leaders of his faction when they had allegedly made an abortive bid to split the party after Nitish Kumar-led Janata Dal (United) walked out of the Grand Alliance (GA) and formed the government with the BJP-led coalition in the state. Read the story here.
No Indian troops in Afghanistan: Sitharaman after talks with US defence secretary
India will not send troops to war-torn Afghanistan, defence minister Nirmala Sitharaman said after a meeting with her visiting American counterpart on Tuesday, but pledged to help the troubled country build infrastructure and stamp out terrorist safe havens. The announcement clears the government's stand in the backdrop of President Donald Trump's speech this August when he, outlining his new strategy for Afghanistan, urged India to assist efforts to restore security in the country. "There shall not be boots from India on the ground in Afghanistan," Sitharaman said at a joint media briefing with US defense secretary Jim Mattis. Read the story here.
I don't run BHU on the basis of RSS or any political ideology, says VC Tripathi
Though accused by detractors of saffronisation of campus, BHU vice-chancellor Prof Girish Chandra Tripathi claims his functioning is not governed by any ideology. "As a vice-chancellor, it is my duty to run the university as per the rules of the BHU Act. My functioning as V-C doesn't have influence of any specific ideology," Tripathi told HT. "I don't run the university on the basis of RSS or any political ideology," the V-C said. "Do those levelling allegations against me have any proof to support their claim?" he asked. His critics claim he enjoys the blessings of top RSS leaders and that he was a close confidante of VHP leader, late Ashok Singhal. Read the story here.
Cricket to change, new rules on run-outs, bat size, poor behaviour from Sept. 28
The International Cricket Council (ICC) on Tuesday announced implementing changes in playing conditions from the introduction of Decision Review System (DRS) in T20 Internationals to putting a restriction on the bat sizes. Players can now also be sent off the field for misconduct, as the new 'playing conditions' will be applicable in all series across formats effective September 28. Teams will also not lose any review due to 'umpire's call', said cricket's world body, adding that it was doing away with DRS appeal top-ups in Test cricket after 80 overs in an innings. In one of the biggest decisions announced by the ICC, the sizes of the bats will be reduced to a depth of maximum 67mm and edges cannot be more than 40mm thick. Read the story here.