Can't sell candy or cola in cigarette shops as govt plans to curb tobacco abuse
Updated on Sep 27, 2017 11:09 AM IST
Shops selling tobacco products must not sell items such as toffees, candies, chips, biscuits, soft drinks, etc. that may attract non-users.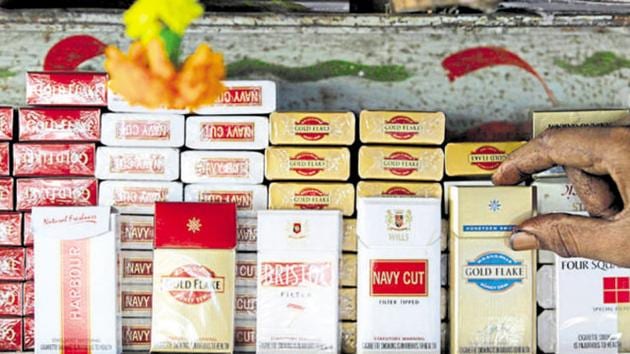 Tobacconists must register with the local civic authority and they can't sell candies and colas on the side that attract non-smokers to the shop, the government proposed in an attempt to reduce tobacco abuse in India.
The Union health ministry wrote on September 21 to the states to develop a mechanism to provide permission or authorisation through the municipal authority to retail shops selling tobacco products such as cigarette, bidi, chewable gutkha and khaini.
"The idea is to track every single shop selling tobacco products by making them register with the local municipal authority. Government should be able to identify all cigarette shops running anywhere in the country," said Arun Jha, economic advisor with the ministry.
The focus is to discourage tobacco abuse among people, especially children and young adults.
"The sale of tobacco products to minors must be tracked and there should be no advertisement of tobacco products. These shops must not sell non-tobacco products such as toffees, candies, chips, biscuits, soft drinks, etc. that may attract non-users," Jha said.
Every fifth adult in this country of more than 1.2 billion people are addicted to gutkha and khaini, while 100 million people smoke cigarettes and bidis, according to a government-approved survey.
"Tobacco initiation age in India is about 16 years … Tobacco shops are mushrooming and this order could act as a stronger deterrent than the current lenient law," said Dr Pankaj Chaturvedi, head and neck surgeon at Tata Memorial Hospital.
A World Health Organization (WHO) report says around 10 million people die in the country every year because of smoke-related diseases such as cancer, respiratory and heart disorders.
Tobacco abuse is a preventable cause of cancer, a disease growing at an alarming pace. Close to 60% cancers are preventable, of which 40% are related to tobacco.
Activists have lobbied for years for stronger restrictions, prompting the authorities to unroll ambitious new curbs on the popular habit that has taken a serious toll on the country's health.
Besides stringent anti-smoking measures nationwide, including tax hikes on tobacco products, there are laws to deter sales.
The Cigarettes and Other Tobacco Products (Prohibition of Advertisement and Regulation of Trade and Commerce, Production, Supply and Distribution) Act, 2003, discourages sales.
Giving or selling tobacco to a child attracts up to seven years of rigorous imprisonment under the Juvenile Justice (Care and Protection of Children) Act, 2015.
According to the Food Safety and Standards Act, 2006, tobacco and nicotine cannot be used in any foodstuff.
But people addicted to tobacco always find an excuse for their unhealthy indulgence. Cigarettes have become part of the social fabric after tobacco was introduced in India in the 1600s.
The government hopes to change that.
"Many states have responded positively to the letter and understand the larger benefits of the move. We have made a request, let's see how soon it can be implemented," Jha said.
Personalise your news feed. Follow trending topics