Protest rage in Kashmir against minor's rape, govt says probe on fast track
Hidustan Times, Srinagar |
Mir Ehsan
May 13, 2019 06:50 PM IST
The protests have raged in Kashmir valley even after the accused was arrested on the day of the crime on May 8.
The Jammu and Kashmir government on Monday said that enquiry into the rape of a three-year-old girl in Sumbal north Kashmir was being conducted on fast track basis even as protests continued to convulse the valley.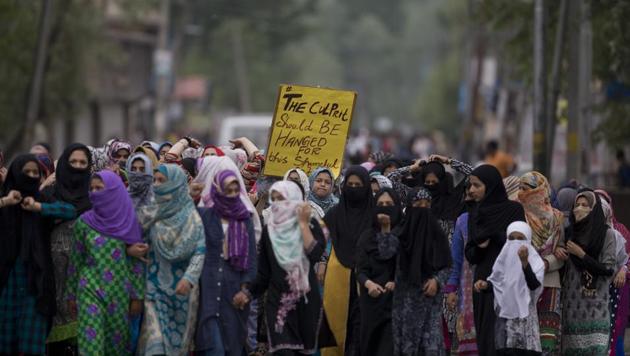 At several places protestors clashed with the police in which 54 people were injured, police said. The protests have raged even after the accused was arrested on the day of the crime on May 8.
Kashmir's Divisional Commissioner, Baseer Ahmad Khan said a fast track probe on into the crime. "I am personally monitoring the inquiry and will be concluded very soon.'' He said that justice will be done and the culprit will be given severe punishment as per law.
Meanwhile, protesting villagers blocked traffic on the Srinagar – Baramulla national highway at Singhpore and its adjoining areas. Police, however, swung into action and used tear gas shells to disperse the protestors. The youths who were carrying placards and banners pelted stones on the police and vehicles plying on the national highway.
Protests were also held in Magam, Sumbal, some parts of Srinagar and Shopian in South Kashmir. Students of Islamic University also held protest in their campus and demanded exemplary punishment for the accused. A protest rally was also taken out at business nerve centre Lal Chowk. A shutdown was observed in Srinagar and some other parts of the Valley but traffic was plying normally on the roads.
A Police spokesperson said that miscreants staged protests and pelted stones on security forces deployed on national highway at Mirgund, Chainabal, Harthrath, Singhpora, Jheel bridge, Kripalpora Payeen, and Hanjiwera areas resulting in injuries to 47 security forces personnel including an Assistant Commandant of SSB who was hit on his head. "However, the police maintained restraint. Seven miscreants also got injured but al are stable.''
Protests have been raging for the past three days in different parts of the Valley as the outrage grows against rape by the minor's neighbour in the holy month of Ramazan on May 8.
Police have already arrested the accused and constituted a special investigation team (SIT) to probe the matter.
A group of women under Kashmir Women's Collective urged the governor for institutionalized support for rape victims. "We request the governor to start a full-fledged rape crisis centre, build a shelter home for women, to have fast track courts, to have professionally run helplines, to have training programs that imparts training to police, teachers, doctors and let's have mental health counselors and therapists for girls and women who face violence," they wrote on Facebook.
"It is a policy issue. It is a societal issue. It is a feminist issue and an issue of the humanity. There's zero support on ground for victims. There's no understanding in media on not to name the victim but the culprit. The victim is named as if she's the culprit," the group stressed.
Amid the protests, Peoples Conference chairman, Sajjad Lone claimed that police used pellet guns on protesters and condemned it.
"Use of pellets against protestors protesting the rape of a 3 year old girl goes against all norms. Has the J K Police forgotten non Lethal crowd control. Heaven's sake. Understand there is anger and anger in such a case is normal,'' he tweeted.
Police has denied using pellet guns to break up the protests.
Authorities deployed police and paramilitary forces on Srinagar –Baramulla national highway and some sensitive pockets of the Valley, especially in north Kashmir.
Governor Satya Pal Malik spoke to Inspector General of Police S P Pani and directed him to work swiftly in the case and ensure that the culprit gets exemplary punishment.