Punjab formula will be accepted by all, says CM
Singh made his precondition for the apology known to Rawat when the latter suggested the CM and Sidhu meet.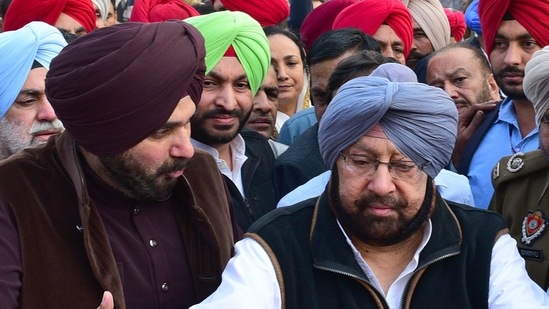 Updated on Jul 18, 2021 04:58 AM IST
Punjab chief minister Capt Amarinder Singh said on Saturday that he will accept any decision of the Congress high command on changes in the state unit but, people aware of the situation said, he refused to meet Navjot Singh Sidhu unless the latter made a public apology for tweets and statements critical of the state government.
The developments suggest the apology may lead to a possible way for the two Punjab leaders to reach a compromise. Sidhu is tipped to take over as the head of the party's state unit, but the elevation has been stuck over objections from Singh, who on Friday wrote a letter to the Congress central leadership warning of a split if Sidhu were to be elevated.
The state is due for elections early next year and both leaders enjoy wide support. The Congress has rushed Harish Rawat, the All India Congress Committee (AICC) general secretary in-charge to deal with the situation.
"Had a fruitful meeting with @harishrawatcmuk. Reiterating that any decision of @INCIndia President will be acceptable to all. Raised certain issues which he said he'll take up with @INCIndia president: @capt_amarinder," the chief minister's media adviser Raveen Thukral said in tweet after Singh and Rawat met.
According to a person aware of the developments, Singh made his precondition for the apology known to Rawat when the latter suggested the CM and Sidhu meet.
"Capt told the state in-charge that he will not meet Sidhu till he tenders a public apology for putting out hundreds of derogatory tweets and statements in the media against him," said one of the people aware of the matter, asking not to be named.
"One thing is very clear... Captain Amarinder Singh ji who had earlier made a 'mahan' (great) statement that that whatever decision will be taken by the Congress president will be honoured by him reiterated that statement today," Rawat told reporters.
The truce formula also involves the appointment of four working presidents to balance caste and religious equations, a second person aware of the discussions said, asking not to be named. Amarinder cautioned the central leadership that if Sidhu, a Jat Sikh, is appointed the state unit chief, it could lead to a split in the party, and advocated for a Hindu face for the position.
In his meeting with Rawat, Singh conveyed his displeasure over the way the central leadership handled the infighting in Punjab, particularly what he said was insufficient consultation, premature announcements and deliberate leaks, the first person quoted above said.
Sidhu has in recent months made several tweets and appeared on media interviews accusing the chief minister of colluding with the rival Shiromani Akal Dal's Badals, promoting mafia raj, and allowing corruption in the government.
Several cabinet ministers sought action against Sidhu for repeatedly targeting the chief minister in public for several weeks, but the high command was not seen to have acted on these. Sidhu has held meetings recently with the Gandhis.
On Saturday, Sidhu was in Chandigarh and called on several senior party leaders, starting with the incumbent state chief Sunil Jakhar. Their meeting lasted nearly 45 minutes during which he sought Jakhar's support and margdarshan (guidance). "He (Jakhar) is an elder brother and a guiding force," Sidhu told reporters after they came out together.
Jakhar said Sidhu is "very capable and does not need any guidance".
Sidhu also met cabinet minister Sukhjinder Singh Randhawa at his residence in Chandigarh where party MLAs Amrinder Singh Raja Warring, Barindermeet Singh Pahra, Devender Singh Ghubaya, Kulbir Singh Zira, Darshan Singh Brar were also present.
A day earlier, on Friday, Sidhu called on Rajya Sabha MPs Partap Singh Bajwa and Shamsher Singh Dullo, both former presidents of Punjab Congress and known rivals of the chief minister.
On Saturday, after the CM met Rawat, he was visited by Bajwa and assembly speaker Rana KP Singh and cabinet minister Rana Gurmit Singh Sodhi.
Bajwa has been a strident critic of the CM for most part of his current tenure and their meeting signalled a possible realignment of forces in the state Congress. "Good to see @Partap_Sbajwa & @capt_amarinder together along with our Hon'ble Speaker @RanakpINC & @iranaosodhi. Partap who I know since 1983 and Captain Sahib would make a good team for the times ahead. He is an old dyed in the wool Congress man," said senior Congress leader and MP Manish Tewari.
Close Story