Put cases of terrorism, sedition, assassination in Centre's jurisdiction: Niti Aayog
Police reforms must include changes that lets federal government step in without having to seek states' permission, Niti Aayog says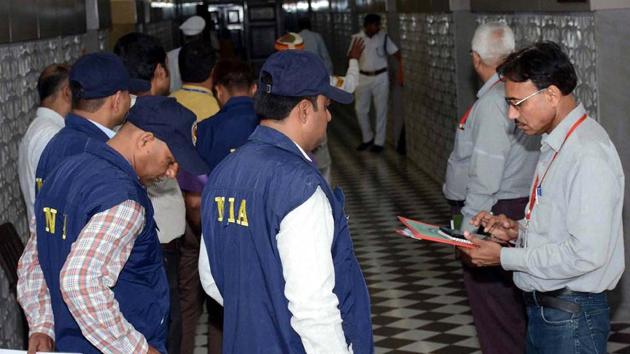 Updated on Oct 11, 2017 11:20 AM IST
Cases of terrorism, sedition and high-profile assassinations should be brought under the jurisdiction of the Union government and investigated by the NIA or the CBI, the country's top policy advisory body Niti Aayog said in a report suggesting ways to modernise the country's police.
India's constitution says policing is a prerogative of state governments, and federal agencies such as the National Investigation Agency and the Central Bureau of Investigation are roped in once a formal request is sent.
"In light of the rapid growth in internet, communication and mobile technologies, organised crimes and terrorism can be best tackled through a unified legal, administrative and operational framework for the police forces across the nation," according to report Building Smart Police: Background into the needed Police Reforms, which calls for the Union government to be given powers to also regulate "public order".
Since empowering the Centre will need a constitutional amendment, "which could be difficult", the report suggested that a clutch of offences be defined as "federal crimes" to bring them under the Union government's jurisdiction.
These include organised crime, terrorism, acts threatening national security, trafficking in arms and human beings, sedition, major crimes with inter-state ramifications, assassination of (including attempts on) major public figures and serious economic offences.
The report recommends such crimes be handed over to central agencies such the CBI and the NIA.
"As per the report of the Second Administrative Reforms Committee, the State Police as well as the CBI could be given the concurrent jurisdiction over investigation of all such crimes. Their investigation can then be given to a central agency like the NIA or CBI."
The issue could raise concerns over federal separations of powers. State governments have often locked horns with Union administrations, especially when they are controlled by rival political parties, over autonomies defined constitutionally. One such case has been the running demand from the Aam Aadmi Party-run Delhi government that wants control of the Delhi Police. The force reports to the Union home ministry, since Delhi is a union territory and not a full-fledged state.
The report comes weeks after the Cabinet Committee on Security cleared the implementation of an umbrella scheme to modernise state police forces under which the Centre will bear 80% share of the funds over three years.
The report has sought reforms in three key areas: improvement in capacity and infrastructure of police forces, revisiting the constitution of police forces through legislative/administrative changes and technological scaling-up.
The legislative changes include shifting of "Police Powers" and "public order" to the "Concurrent List" of the Constitution. Both are currently state subjects.
Close Story
Personalise your news feed. Follow trending topics