Rafting, camping business run aground in Rishikesh
While campers and private operators are eager to make a return, lack of coordination among government departments ensure they don't.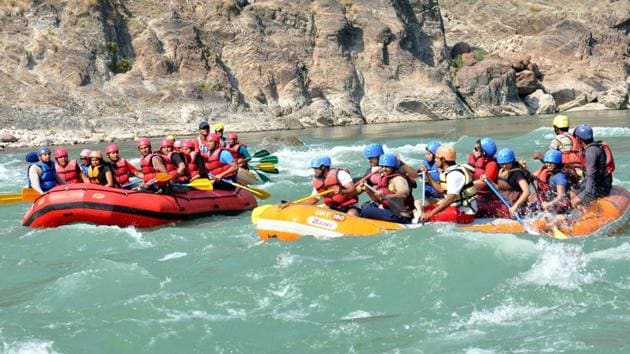 Updated on Jan 27, 2018 10:11 PM IST
It's been over 10 months since the National Green Tribunal (NGT) lifted the ban on camping along the Ganges in Uttarakhand but there has been no activity on the 36-km stretch between Kaudiyala and Rishikesh yet.
While campers and private operators are eager to make a return, lack of coordination among government departments ensure they don't.
The stretch used to be famous for rafting and camping activities till the green court banned camping in December 2015 based on a petition by a Noida-based NGO that claimed loud music, littering, and river pollution were affecting the ecosystem. The white water rafting industry, pegged at an annual Rs 70– Rs 90 crore and open for nine months barring the monsoon (July-September), took a hit. It employed 5,000-7,000 people, including guides, cooks, instructors and drivers.
The business has two components: rafting and camping. Rafters would camp on beaches with lush green hilly forests forming the background.
To run this, a rafting operator, after getting an 'outdoor activity' licence, seeks space along the beaches. But the land comes under either the forest or the revenue department.
Dinesh Kaithait, 42, a veteran operator, has been shuffling between the departments but to no avail. Around 200 operators like him are clueless about reviving their business.
Kaithait told HT that with no camping, rafters are slowly shifting to other rivers such as Tons in Dehradun district. Before the ban, 3.41 lakh sqm area was available to pitch 1,364 camps in 38 beaches.
Based on a study by Dehradun-based Wildlife Institute of India, the NGT in March last year approved camping in 25 beaches, but 100m away from the middle of the river. Besides some other riders, the tribunal also ordered for bio-digester toilets in the beaches.
Ratan Aswal, who used to run 'Camp 5 Elements', says operators are ready to follow norms but officials are "not responding". The beaches fall under the jurisdiction of Tehri and Pauri Garhwal districts.
Divisional forest officer of Narendranagar (Tehri), Rahul (who goes only by his first name), says there are certain policy issues.
"As per the NGT's order, the forest land has to be transferred to Uttarakhand Forest Development Corporation (that conducts eco-tourism activity)," he said, adding that permission was awaited from the Centre.
Secretary (tourism), Dileep Jawalkar, underlined they are "worried about the impact on tourism and have asked concerned officials to expedite with the ministry". However, Sushil Kumar, district magistrate of Pauri Garhwal, said his office was "yet to receive applications (for beach camping)".
Meanwhile, a few camp operators have moved a petition in the Supreme Court challenging the NGT order.
Close Story