Rahul Gandhi's thank-you note for a piggy bank days after Congress targeted PM
Published on Nov 28, 2022 06:36 AM IST
Bharat Jodo Yatra: The Congress has been sharing multiple videos and photographs of interactions during the course of the journey.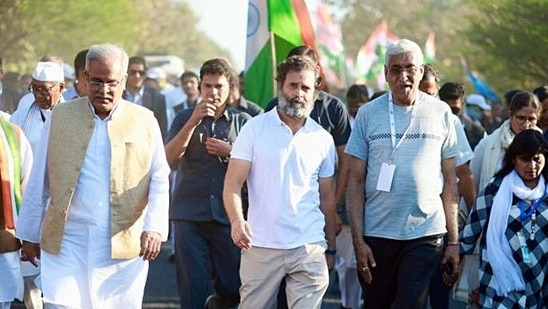 As the Congress's Bharat Jodo Yatra proceeds towards Kashmir - after starting from the southernmost parts of the country in September - videos and photos are being shared every day by the grand old party and its leaders every day of interactions with people during the course of the journey. In one of the videos on Sunday, Rahul Gandhi wrote about getting a piggy bank in contribution for the mass contact programme. It may, however, be noted that the video has been shared days after the grand old party had criticized Prime Minister Narendra Modi over a young girl's appearance in a video amid the BJP's Gujarat campaign.
In the video Rahul Gandhi shared on Twitter on Sunday, the party leader can be seen thanking the children. A young boy - in the clip - can be heard saying that he was collecting money since the Congress started its mass contact programme. "I told Rahul Gandhi if he feels the need, he can use the money from the piggy bank for it," he is heard saying in the clip.
"From what I understand about the Yatra, it aims to eliminate the animosity between communities. Bharat Jodo means all communities are the same," he adds in the clip
The Congress leader - in his tweet (roughly translated from Hindi) - wrote: "The virtues of sacrifice and selflessness come with values learnt during childhood. This piggy bank is precious for me. It is a treasure trove of love."
Last week, the Congress had slammed PM Modi for the video where a young girl was seen by his side, praising the ruling party in Gujarat. In tweets, the grand old party's Jairam Ramesh sought the attention of the Election Commission of India (ECI) and National Commission for Protection of Child Rights (NCPCR), calling it "a clear violation of the law".
Earlier, the BJP had accused Congress and Rahul Gandhi of using children for his 'Bharat Jodo Yatra' and had complained to the NCPCR but the grand old party had dismissed charges that it was using children for "political purpose".