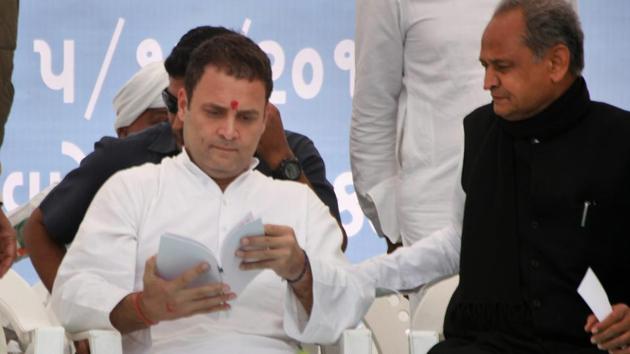 Forging alliances to boosting party morale: 4 challenges await Rahul Gandhi as Congress president
The Congress announced Rahul Gandhi as its next president on Monday, ending Sonia Gandhi's record reign of 19 years.
UPDATED ON DEC 11, 2017 05:07 PM IST
Rahul Gandhi was officially declared president of the Congress party on Monday, taking charge of what can be seen as one of the most challenging jobs in Indian politics.
Gandhi, 47, will take control of the country's principal opposition party from his mother Sonia, who served as the Congress chief for a record 19 years.
The challenges, which by and large include sweeping changes crucial to take the party out of one of its worst phases, mirror the early days of his mother's term in 1998 when the party was in power in only four states and was torn by divisions within.
Following are some of the important decisions and problems he will need to deal with to revive the party:
Organisational overhaul
Rahul's first task will be a revamp of the party. Leaders suggest he will go for an overhaul, completing a generational shift in the 131-year-old party brought about by his elevation.
The important challenge will be to ensure the transition is smooth, a balance is struck between young leaders and the old guard, which in the past had some reservations about his style of functioning.
In his nearly five years as the Congress vice-president, he had tried to open the party to end the heirloom politics but didn't make much headway.
State affairs
The party has to mount a strident campaign for state elections in 2018 to begin gathering a momentum that can put it in a better position for the general elections in 2019.
Retaining Karnataka and dethroning the BJP in Madhya Pradesh, Chhattisgarh and Rajasthan will be a daunting task, one that cannot be achieved without addressing problems such as infighting and regional leadership gaps.
The party desperately needs to get its house in order in key states of Uttar Pradesh, Bihar, Andhra Pradesh, Telangana, Tamil Nadu, Odisha and West Bengal, where it has ceded political space to rivals.
Lifting morale
With the Congress at its weakest in parliament and arch-rival BJP appearing to gain ground nationally, it is crucial for Gandhi to galvanise an otherwise demoralised Congress. Much of the cadre has been struggling to recover after a series of electoral setbacks.
The challenge is difficult but not impossible, since outgoing Congress president Sonia Gandhi turned the party around in six years after taking charge, winning the 2004 and 2009 general elections.
Forging partnerships
With around 16 months left for the next Lok Sabha election, Gandhi will have to decide on alliance partners to prevent a division of the opposition vote that could help the BJP.
Stitching up alliances perhaps is his second biggest challenge after reviving the party.
His mother, who turned 71 on December 9, enjoys a good rapport with other opposition parties. Crediting her with bringing together the United Progressive Alliance, CP-M leader Sitaram Yechury described Sonia as the "glue" that bound the Congress as well as secular allies.
Rahul will have to be the Congress president, the "glue" and more.
Close