Denied open-jeep roadshow, Rahul Gandhi hits Gujarat campaign on bullock cart
The decision to campaign from Saurashtra — a Patidar community heartland that has been a stronghold of the ruling BJP — is seen as a cultivated strategy to court the Patidar and OBC electorate.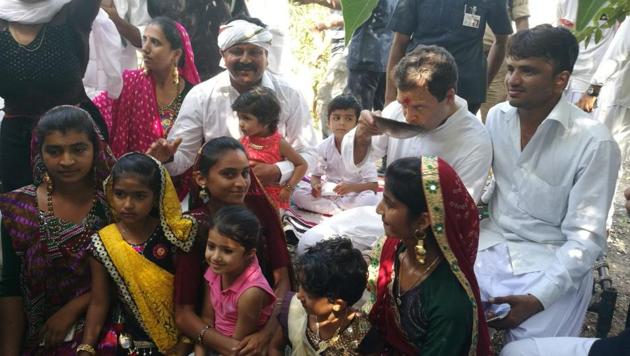 Updated on Sep 25, 2017 04:55 PM IST
Congress vice president Rahul Gandhi kicked off a three-day Gujarat campaign on Monday with prayers at the famous Dwarkadhish temple in Dwarka and was welcomed by Patidar protest leader Hardik Patel.
The campaign will focus on the politically crucial Saurashtra region, a Patidar community heartland that has been a stronghold of the ruling BJP for almost three decades. The state police have refused the Congress leader permission to hold an open-jeep roadshow, leaving him with a consolation to take out a bullock cart yatra.
Gandhi prayed at the temple and met some religious leaders in the morning and will address meeting later. He was also welcomed by Hardik, who has so far been quiet on possibly supporting the Congress in upcoming state elections.
The decision to launch the campaign from Saurashtra, which sends 58 MLAs to the 182-member assembly, is seen as a cultivated strategy to court the Patidar and other backward class (OBC) electorate.
The two communities, which form the core of the BJP's support base, were giving jitters to the ruling party. State polls are due in Gujarat this year.
The region is the hub of the Patidar or Patel movement for reservation in education and government jobs, which the community has been demanding since July 2015. For their part, the OBCs are not willing to share their quota of benefits.
Gandhi's itinerary includes Dwarka, Jamnagar, Morbi, Rajkot and Surendranagar — areas that witnessed large-scale Patidar strikes. His journey ends on Wednesday.
With the police refusing him permission to cover the 135 km stretch from Dwarka to Jamnagar by an open jeep and stage roadshows citing security reasons, Gandhi would now be taking a specially done up luxury bus for him equipped with CCTV cameras. The open-jeep connect with the people might not be possible for now.
However, this does not seem to have dampened the spirits of the Congress workers, for instance, in Hanjrapar village some 25 km from Dwarka, Gandhi will enter in a traditionally decked up bullock cart.
"Not only his welcome, but we have also made all sitting arrangements for everyone here, including that of Rahulji, in typical Saurashtra cultural style," Palbhai Ambaliya told IANS on Sunday night.
The Congress strategy appears refreshed after the nail-biting win of Ahmed Patel, the party president's political adviser, in the Gujarat Rajya Sabha elections this August.
"This is for the first time in nearly three decades that a tall Congress leader is campaigning non-stop for three days. In 1991, the late prime minister Rajiv Gandhi stayed in Gujarat for two days for campaigning," party spokesperson Shaktisinh Gohil said.
A modified bus kitted out with a bed and washroom will be taking Gandhi through cities and villages.
After the temple in Dwarka, he will hit the road for Jamnagar where a roadshow is planned in the evening. On the way he is likely to stop at Bhatiya and Khambhaliya.
The next morning, he will leave for Rajkot with likely halts at Tankara and Wankaner. He will meet traders and is expected to discuss problems caused by the newly launched good and services tax (GST) and demonetisation of high-value cash last November.
Gandhi is likely to visit Morbi, the region's worst-affected town during the 2015 Patidar stir.
On the final day, he will visit Surendranagar and offer prayers at two temples. He will first visit a hilltop temple at Chotila and then move to Khodaldham temple at Kagvad.
His visit to Khodaldham assumes significance as this is the most important shrine of financially and politically influential Leuva Patels.
In the run-up to the elections, Gandhi is expected to hold three more campaigns covering north, south and central Gujarat.
The Congress lost 14 MLAs before the Rajya Sabha elections. They resigned and some of pledged their allegiance to the BJP.
Gandhi's route is planned in such a way that he can reach out to Patidars in areas of the legislators who defected recently.
(With inputs from IANS)
Close Story