Rail factory manufactures first smart coach with fire alarm, GPS system
Aug 28, 2018 11:15 PM IST
Raibarely's Modern Coach Factory (MCF) has built the railway's first "smart coach" with advanced disc brake, fire detection, alarm and GPS-based tracking systems
Raibarely's Modern Coach Factory (MCF) has built the railway's first "smart coach" with advanced disc brake, fire detection, alarm and GPS-based tracking systems. The coach has arrived in Delhi and would be a part of the Delhi-Azamgarh Kaifiyat Express. MCF plans to build 100 such coaches with similar facilities.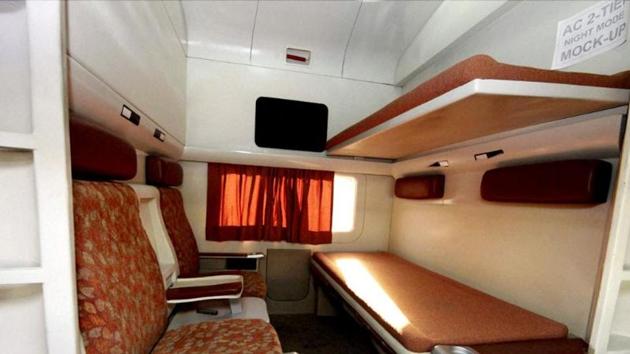 Officials said the coach has an emergency talkback system for passengers in distress to seek assistance.
MCF general manager Rajesh Aggarwal said the coach is equipped with state-of-the-art sensors and a centralized computer. "It has vibration-based self-power harvesting sensor on the axle box to predict defects on the bearings, wheel defects and the hard spot (defects) on the tracks. This will enable the railways to plan maintenance on exactly need basis and will also eliminate online failures."
The coach has passenger information and a computing unit to monitor maintenance and passenger interface. "The security and surveillance system, interface with other sub-systems like air conditioning, disc brake system, fire detection and alarm system, water level indicator and GPS based passenger announcement and passenger information system and digital destination board will be monitored through it,'' said northern railway spokesman Nitin Chaudhary.
The passenger information system will inform passengers about a train's location and expected time of arrival at a particular station.
"A water level indicator would give advance information to the maintenance staff through SMS about the requirement for refilling of water. A CCTV, with artificial intelligence capability, will enhance the security of passengers and also monitor activities of onboard railway staff,'' said the railway's chief mechanical engineer Arun Arora. "The (CCTV) footage can also help investigations into any untoward incident…"
The coach will have advanced air-conditioning system to monitor and adjust temperatures from a remote location.
The advanced systems are also capable of monitoring the brake system and any fault in the system can be communicated to the maintenance staff in advance. The coach will have Wi-Fi facilities too.