Raj Kundra's bail plea rejected by Esplanade Court; 'Is he a terrorist,' asks lawyer
Published on Jul 28, 2021 02:50 PM IST
Raj Kundra's lawyer defended the bail plea and said many of the accused are already out on bail and that Raj Kundra has been co-operating in the investigation process.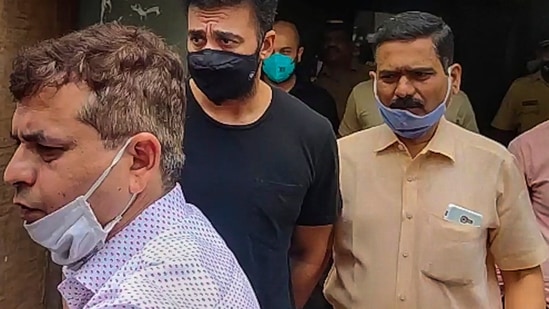 Mumbai Esplanade court on Wednesday rejected the bail plea of businessman Raj Kundra, arrested in connection with a porn racket which the crime branch of Mumbai Police is investigating. On Tuesday, Shilpa Shetty's husband Raj Kundra was arrested and was remanded in police custody till July 27. On Tuesday, as his custody ended, he was sent to 14 days' judicial custody, while the bail plea was slated to be heard on Wednesday. As the hearing started, the public prosecutor opposed the plea and said that as he is an influential person, he can intimidate the witnesses which will derail the probe. To this, Kundra's lawyer said, "Is Raj Kundra a terrorist?"
Kundra's lawyer also said that the chargesheet was already filed in April and many of the accused are out on bail. But the prosecution objected and said Kundra is a key conspirator of the case and rejected the bail plea of both Kundra and his business associate Ryan Thorpe.
Raj Kundra earned ₹1.1cr from app in 5 months: Mumbai Police
On Wednesday, a fresh FIR has been lodged in connection with the pornography case against Raj Kundra in which the name of actor Gehana Vashishth has also been mentioned. Apart from cheating, charges of robbery have also been included in this FIR.
Kundra has also moved the Bombay high court against his arrest which his lawyers termed illegal as he was not served notice. The high court heard the case on Monday and allowed no immediate relief to Kundra. The case will again come before the high court on Thursday.
In the latest updates in the ongoing case, the Mumbai crime branch has appointed forensic auditors to look into the financial transactions and bank accounts of Kundra. Actor Shilpa Shetty who was interrogated in connection with the case is also not above doubt, Police said.
Investigations into Kundra's HotShots app, which was officially owned by Kudra's brother-in-law, revealed that Kundra earned at least ₹1.17 crore between August and December in 2020 before the app was taken down by Apple and Google Playstore.
Personalise your news feed. Follow trending topics