Rajasthan CM hints Pratapgarh man's death wasn't murder, gets trolled
Vasundhara Raje's choice of words in a tweet to mourn the death of a man who was lynched has drawn flak for not calling it a murder.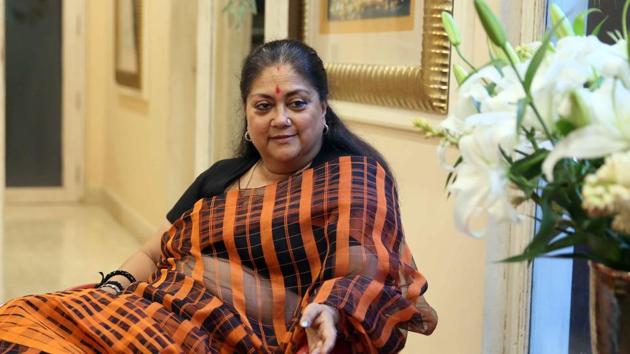 Updated on Jun 18, 2017 10:27 PM IST
Breaking her silence on the lynching of social activist Zafar Hussein in Pratapgarh on Friday, Rajasthan chief minister Vasundhara Raje on Sunday tweeted that the "demise" was extremely unfortunate.
However, she also indicated that the death was not a murder by re-tweeting a tweet posted by inspector general (IG) Udaipur that scientific evidence did not point to murder.
A group of government officials allegedly beat to death 55-year-old Zafar Hussein, a social activist and CPI-ML member, for trying to stop them from photographing women defecating in public in a Rajasthan town on Friday. His name in his Aadhar card, however, was spelt as Jafar Khan.
Commenting on the incident, Raje tweeted Sunday morning, "the demise of Zafar Khan ji in Pratapgarh is extremely unfortunate. Investigation is on - justice shall prevail."
But the CM's choice of words in the tweet drew a couple of sharp reactions.
Rajasthan Congress president Sachin Pilot took a swipe at Raje's tweet by re-tweeting that "killed would have been a far more appropriate word, and going by previous lynching incidents, justice is unlikely to prevail."
Senior journalist Shekhar Gupta also hit out at the CM tweeting, "when a lawfully elected chief minister, sworn to rule based on the Constitution, can't call a murder a murder, it's time to cry."
Five municipal council officials – including the commissioner were out on a morning round in a slum to photograph people defecating in open when Zaffar objected, local residents said.
Police have registered a case of murder against the five officials. "We are investigating the case and no arrests have been made so far," said Pratapgarh station house office Mangilal Bishnoi.
Read more: Rajasthan man lynched for objecting to officials clicking photos of women defecating was a 'pillar of support'
The Pratapgarh assembly seat is held by the BJP.
Police haven't arrested anyone for the alleged assault but has named four civic officials – including commissioner Ashok Jain – in the FIR.
Zafar, who ran a small grocery shop and worked for rights of labourers, had repeatedly petitioned the municipal councilor to release money for the construction of toilets in the homes, the villagers say.
The photographing of people defecating in the open is part of the government's Swachh Bharat scheme to shame and discourage public defecation. But many experts say such naming-and-shaming doesn't work because poor and backward communities have scant access to functional toilets or funds to build their own facilities.
The incident in Pratapgarh – around 400 km from state capital Jaipur – is the latest in a string of cases of lynching across India. In April, a Muslim dairy farmer was killed by alleged cow protection vigilantes while legally transporting cattle.
Close Story
Personalise your news feed. Follow trending topics