Rajasthan HC judge wants cow as national animal, life term for slaughter
Jun 19, 2017 07:17 AM IST
The Rajasthan high court is hearing a public interest litigation related to the death of 500 cows over two weeks in July 2016 at Jaipur's government-run Hingonia cow rehabilitation shelter
The Rajasthan high court asked the central and state governments on Wednesday to declare the cow as India's national animal and ensure life terms in jail for those who kill the animal considered holy by many Hindus.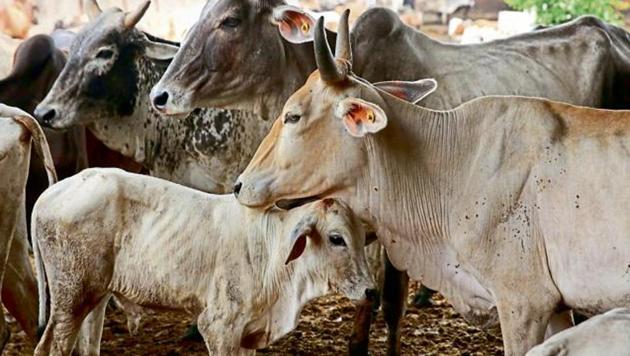 Justice Mahesh Chand Sharma also listed 11 benefits of cow urine while hearing a petition on the death of more than 500 cows at a Jaipur government-run shelter.
"It is believed that 33 crore gods and goddesses reside inside the cow…cow is the only living being which intakes oxygen and emits oxygen," the judge said, adding that the animal was a laboratory in itself. He retires on Wednesday.
"It is expected from the government that it should declare cow as national animal and for this purpose the chief secretary and advocate general of state are declared legal custodians of cow," the judge said in a 139-page order, calling himself a Shiv devotee.
The order comes amid a fierce nationwide debate on a controversial central government notification that banned the sale of cattle for slaughter at animal farms. Angry protests have rocked Kerala and Tamil Nadu and other states such as West Bengal have rejected the rule on grounds that it violates India's federal structure.
Cow slaughter is banned in most states of India, including Rajasthan. Since the BJP stormed to power in 2014, the issue has increasingly divided communities and sparked raucous debates, especially with the rising power of cow protection vigilante groups. Last month, a Muslim dairy farmer was lynched in Rajasthan's Alwar by alleged cow vigilantes.
The large-scale cow deaths at the Hingonia cow rehabilitation centre, just 36 kms from Jaipur, had embarrassed the government. A probe revealed dereliction of duty by government officials at the shelter where the bovines starved to death after they were caught neck-deep in cow dung and fodder that had turned slushy due to rainwater seepage.
Justice Sharma quoted scientists from India and abroad to illustrate how the cow was good for mankind. Quoting German scholar Rudolf Steiner, he said the cow through its horns absorbed "cosmic" energy. Further, he quoted a Madras-based scientist to say that cow dung killed cholera germs.
"Cow dung generates 4,500 litres of biogas," the order says. If biogas is generated from all cow dung, the country can save 6.80 lakh tonnes of wood, he said. The judge also said that cow was important for the agricultural economy and called for legal entity to be provided to the cow as had been granted to the Ganga and Yamuna.