Rajnath reviews readiness of Port Blair-based joint command
Updated on Jan 06, 2023 11:39 AM IST
Singh is on a two-day visit to the strategic Andaman and Nicobar Islands, India's farthest military outpost.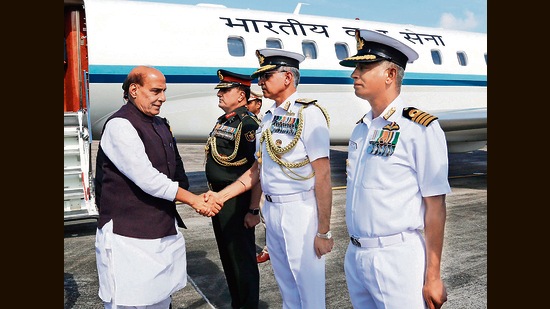 NEW DELHI: Defence minister Rajnath Singh on Thursday reviewed the operational readiness of the Port Blair-based Andaman and Nicobar Command, India's first and only operational joint services command set up in 2001, and also took stock of infrastructure development in the region, the defence ministry said in a statement.
Singh is on a two-day visit to the strategic Andaman and Nicobar Islands, India's farthest military outpost.
"I firmly believe that Andaman and Nicobar Command will continue to excel in its contribution towards ensuring national security," Singh said.
The minister's visit to the islands comes at a time when China is pushing for greater influence in the far seas and its warships are increasingly foraying into the Pacific and Indian Ocean regions.
Lieutenant General Ajai Singh, Commander-in-Chief Andaman and Nicobar Command (CINCAN), briefed the minister on the geo-strategic potential of the archipelago in the Indian Ocean region, and the role the islands can play in enhancing India's influence and support to military operations in the area. He also highlighted the command's achievements, future plans and the challenges ahead.
In his presentation, General Singh highlighted the role played by the command in carrying forward government's Act East Policy and the vision of Security and Growth for All in the Region (SAGAR) by building ties with the country's maritime neighbours.
The minister also visited the command's joint operations centre (JOC), which is the nerve centre for integrated planning for surveillance, conduct of operations and logistics support. Later addressing officers and jawans, the minister praised the bravery shown by Indian soldiers along India's northern frontier, from Galwan in Ladakh to Yangtse in Arunachal Pradesh, amid the ongoing border stand-off with China.
He also touched upon self-reliance in the defence manufacturing sector.
"We have taken a firm step forward towards self-reliance. We have made giant strides towards realising 'Make in India, Make for the World' vision. Our armed forces will soon be among the strongest militaries of the world. This is our vision as well as our mission," he said.
In September 2019, the Indian Navy repelled a Chinese vessel that had intruded into Indian waters near the Andaman and Nicobar Islands, The Chinese research vessel, Shi Yan 1, was spotted near Port Blair and was suspected to be carrying out an ocean survey in India's exclusive economic zone (EEZ). Every coastal country's EEZ extends to 200 nautical miles (370 km) from its shores and the country in question has exclusive rights to all resources in the water, including oil, natural gas and fish.