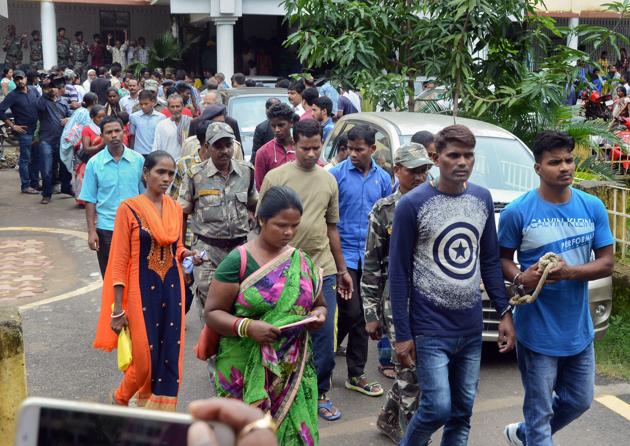 Ranchi court sentences 13 to life for 2015 murder of 5 women who allegedly practised witchcraft
On August 8, 2015, a village mob in Ranchi district had hacked five women to death after branding them witches.
UPDATED ON AUG 02, 2018 11:12 PM IST
A trial court in Ranchi on Thursday convicted 13 people and sentenced each of them to life imprisonment for killing five women for witchcraft in the district's Mandar block three years ago.
The incident dates back to the intervening night of August 7-8, 2015, when a mob at Kanjiya village in Ranchi's Mandar block hacked five women--Tetri Oraon,35, Etwaria Oraon, 50, Madni Oraon, 55, Jasinta Toppo, 55 and Ratia Oraon, 70--to death after branding them witches. As many as 43 villagers, including two minors, had faced trial for the murder. Four separate cases had been registered by the police in this connection.
The court of additional judicial commissioner SS Prasad found 13 people guilty of murder while 26 were acquitted 26 of all charges. An inquiry is being conducted against the two minors. While one of the accused had died, trial against another was separated and is yet to be concluded.
Those who have been convicted are Xavier Khalkho, Mojesh Khalkho, Krishna Khalkho, Baldeo Khalkho, Sandeep Khalkho, Sachin Khalkho, Arun Bara, Rajesh Tigga, Barnwas Khalkho, Sannu Khalkho, Sannu Oraon, Albinat Khalkho and Rohit Khalkho.
The court convicted the first six accused in all the four cases and awarded them life term in each of the cases. It said that the sentences would run consecutively (one after another).
Similarly, convicts Bara and Tigga, who were booked in three and two cases respectively, were awarded life imprisonment in each of the cases. The other convicts, however, faced trial in only one case.
The court found the 13 convicts guilty under sections 302 (murder) and 354 (assault or criminal force to woman with intent to outrage her modesty) of the Indian Panel Code (IPC) and various sections of the Prevention of Witch (DAAIN) Practices Act. It also slapped a fine of Rs 38,000 on each of the convicts. On default of payment of fine amount, the convicts have to undergo additional 10 months imprisonment.
On August 7 night, people from at least four villages under Mandar police station held a meeting that began after 9pm and stretched up to midnight to discuss the causes of death of several youngsters of the village. In the meeting, they unanimously decided to eliminate the five women, who allegedly practised witchcraft, to prevent further deaths in the village. The next morning, the village mob killed the five women.
When police arrived in the morning, the accused villagers showed no remorse for committing the crime and even prevented them from picking the stripped and badly mutilated bodies. The villagers have submitted a written confession to the police claiming responsibility for the killings.
As per National Crime Records Bureau (NCRB) data, a total of 54, 47 and 32 cases were reported under murder for witchcraft in Jharkhand during 2013, 2014 and 2015 respectively.
An analysis of the data since 2001 for Jharkhand shows a total of 523 women had been lynched till 2016 after being branding as witches. The state showed the most witch-hunting murders in 2013, when 54 persons were killed.
Topics
Close