Sabarimala row Highlights: Section 144 imposed in 2 more areas, extended till October 22
Updated on Oct 19, 2018 11:45 PM IST
On day three of the Sabarimala temple opening, devotees continue to throng the hill for completing their pilgrimage to the Ayyappa temple. However, tension remains as women attempt to enter the temple. After two women unsuccessfully attempted to trek up to the hill-shrine, two women undertook the long walk on Friday morning under a police guard of more than 150 personnel. Devotees have been aggressively protesting a Supreme Court order that allows women of menstrual age to enter the temple, a ban that was followed for decades as a religious practice. With the Kerela government saying it will follow the court order and ensure women are allowed in the temple, protests have swept across the state leading to a state-wide shutdown.The Travancore Devaswom Board (TDB) is meeting today to find a resolution. Here are the highlights: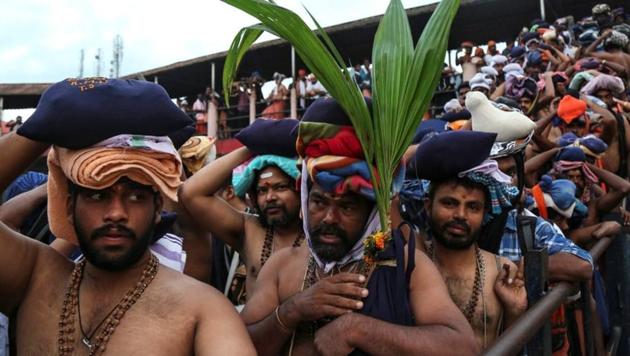 7:00 pm IST
Section 144 extended till October 22
Section 144 has been extended till October 22. The prohibition has been imposed in two more areas, Plapally and Laha. On October 18, Section 144 was declared in four places including Pamba, Sannidhanam.
6:26 pm IST
Police want extension of Section 144
Police ask Pathnamthitta district collector to extend Section 144, which was initially declared for three days. They want the prohibition to be extended as the situation is getting grave.
6:00 pm IST
Congress, BJP decry Kerala CM's absence from the state
Kerala CM Pinarayi Vijayan is on three day visit to UAE to collect money for relief after floods. Both Congress and BJP have decried his absence.
5:06 pm IST
Protesting devotees detained by police in Pamba
Police detain protesting devotees in Pamba.
#Kerala: Police in Pamba detain Lord Ayyapaa devotees protesting against entry of women of all ages in #SabarimalaTemple pic.twitter.com/0ySJjh1nmr

— ANI (@ANI) October 19, 2018
4:48 pm IST
Temple board to file affidavit in SC detailing Sabarimala situation
Travancore Devaswom Board (TDB) meeting is over. It decided to file an affidavit in Supreme Court citing the grave situation prevailing at the temple, says TDB president A Padmakumar.
We are not there to play politics. We are committed to protect believers," he says.
It is not a review petition but will detail facts and current situation at Sabarimala.
The board will also submit a report in high court, he says, adding the situation is really grave.
3:50 pm IST
Centre's advisory to 3 southern states
Centre has asked the southern states of Kerala, Tamil Nadu and Karnataka to tighten security in view of the continuing protests.
"All necessary precautionary measures may be taken to maintain law and order and appropriate security arrangements may be made to prevent any untoward incident," the advisory, sent by the internal security division of the home ministry, said.
The advisory said appropriate prohibitory orders be issued and a close watch may be kept on dissemination of "adverse information" through social media and internet services, to ensure that no breach of law and order takes place.
3:37 pm IST
Devotees being misled by BJP and Congress: CPI(M)
"We are not against believers. They are being misled by BJP and Congress. We don't want Sabarimala to become a battle ground," says CPI(M) state secretary Kodiyeri Balakrishnan.
"Sangh parivar outfits trying to foment trouble. They even trying to communalise police and target officials carrying out their duty," he says.
"Party will organise family meets and house to house campaign to make people aware of ground situation," says Balakrishnan.
2:41pm IST
'In name of devotees, other elements causing discord'
CPM leader Sitaram Yeschury says efforts are being made to disrupt social harmony. In the name of harmony, other elements are causing discord, he adds. "Those disturbing law and order will be dealt with," says Yechury.
2:35pm IST
Kerala govt doing its job, says CPM
CPI (Marxist) general secretary Sitaram Yechury defends the Left-led government in Kerala by saying it is doing its job. He further says there is a duplicity in the BJP which supported the Supreme Court verdict and the devotees.
1:30pm IST
Travancore Devaswom Board calls for meeting at 3pm
The Travancore Devaswom Board (TDB) has called for a meeting at 3pm to discuss the ongoing row over allowing women into the Sabarimala temple. TDB president A Padmakumar says he's open to a discussion.
1:20pm IST
Activist Fathima says devotees didn't disrupt peace, people did
"People, not devotees, who want to disrupt peace didn't allow us to enter. I want to know what was the reason. Tell me, in which way one needs to be a devotee. You tell me that and then I will tell you if I'm a devotee or not," activist Rahana Fathima says after climbing down. After Fathima was identified, two bike-borne men reportedly attacked her house. "I don't know what happened to my children. My life is also in danger. But they (police) have said that they will provide protection. That is why I am going back (home)," she adds.
12:30pm IST
'What Kerala police are doing is wrong'
"Sabarimala is not a tourist spot, only devotees go there. Right now what Kerala police is doing is wrong. Had there been our government, we would've handled the situation better. We would've talked to devotees, there would've been no violence," says Congress leader R Chennithala.
11:20am IST
People of all religions going to Sabarimala, says Congress
The Congress launches a strong attack over Sabarimala row. "We met the Governor and explained to him the current situation. Not only Hindus but people from all religions are going there. Everyone is worried. The woman activist (Rehana Fatima) was given a police uniform. It was wrong," says leader Ramesh Chennithala
12:11pm IST
Congress seeks action against police
The Congress party sought action against Inspector general of police S Sreejith for hurting sentiments of devotees by allowing women till the Patthinettam padi, the 18 holy steps that lead to the temple. Of the two women, one was an activist, Rahana Fathima.
11:57am IST
Both women reach base camp in Pambha
Both women, journalist Kavitha Jakkal and activist Rehana Fathima, have returned to base camp in Pambha. They will be escorted to their destinations with police protection.
11:45am IST
Ritualistic disaster, says top cop
Inspector General of Police S Sreejith, who accompanied the two women up to the Pathinettam padi, calls the attempt a "ritualistic disaster". "We took them up to temple and gave them protection but darshan is something which can be done (only) with consent of priest. We will give them (women) whatever protection they want," he tells news agency ANI.
11:39am IST
One more woman comes forward to trek to temple
A 46-year-old approaches police about trekking up to Sabarimala temple. Police warn her they can't provide protection. The woman, identified as Mary Sweety, is taken to the control room.
11:26am IST
BJP attacks govt, police
BJP general secretary K Surendran criticises government for the row at Sabarimala. Says the issue has taken a communal turn due to activist Rahana Fathima's actions. "It is a move against Hindus... Who enacted this drama? Government or police," he further questions.
11:09am IST
Women begin climb down, priests call off protest
The woman journalist and activist head back down the hill after police talk to priests and devotees.
10:47am IST
Police say women won't enter temple, to go back
Inspector general announces that women will be taken back amid protection. The announcement comes after head priest Tantri Rajeevaru Kandarau threatened to close the temple and quit.
10:46am IST
Ready to dump position, says Tantri
"I can't withstand such a moment. I have already taken decision... I respect Supreme Court verdict but I am with devotees. No ill will against anyone. I am helpless. I am ready to dump my position," says Tantri Rajeevaru Kandarau. He also asks devotees to exercise utmost restraint.
10:38am IST
Head priest says he will shut temple if women enter
Temple head priest, Tantri Rajeevaru Kandarau calls today a "most painful day". "I told everyone if women enter holy steps, I will close the temple and I will go back to my house. I am with devotees. I can't be a part of violation of temple rituals," he says. Religious rituals have been disrupted for an hour.
10:35am IST
Temple minister admits lapse
Temple minister Kadakampally Surendran admits lapse over activist being allowed. Had earlier said temple is not a place for activists.
10:25am IST
Governor summons DGP over Sabarimala standoff
Director General of Police summoned by Governor Sathasivam.
10:16am IST
Protests erupting in other parts of the state
As the standoff continues at the foot of the Pathinettam padi – the 18 steps that lead to the sanctum sanctorum of the temple – protests are erupting in Calicut and Kochi.
10:12am IST
Temple priests join protests
Priests stage dharna, affecting temple rituals for the first time. Temple priests have so far never disrupted the temple's routine, even carrying on during floods. The two women are 500 m away from the sanctum sanctorum, about a 10 minute walk to the shrine.
10:03am IST
Opposition hits out at Kerala govt
Opposition leader Ramesh Chennithala criticises government, says it is playing with fire.
9:57am IST
Temple minister criticises police
"Police should have checked antecedents of the women before escorting them," says temple minister Kadakampally Surendran.
9:45am IST
Activist Rehana Fathima refuses to leave
As police attempt to negotiate the women's entry to the temple, activist Rehana Fathima refuses to turn back. She says she undertook the 41 day fast devotees usually do and wants to enter the Sabarimala temple.
9:40am IST
House of one of the women attacked
One of the women attempting to enter the temple has been identified as Rehana Fathima, an activist involved in several movements including the Kiss of Love campaign. Two bike-borne people attacked her house in Kochi, police sources said.
9:36am IST
Speculation over whether women will turn back
As impasse continues, it appears police might have to take the women back without entering the temple. This is the closest any menstrual women has reached the hill shrine of Lord Ayyappa.
9:33am IST
BJP leader arrested in Nilakkal
BJP leader Shohba Surendran arrested in Nilakkal for defying section 144, which prohibits assembly of more than five people in a public place.
9:24am IST
Temple affairs minister says temple not a place for activists
Temple affairs minister Kadakampally Surendran says temple is not a place for activists.
9:20am IST
Standoff between police and protesters continue
Protesters continue to block women's path to the holy steps of the temple that lead to the sanctum sanctorum. The 18 holy steps mark the final leg of the pilgrimage to the Sabarimala temple.
9:07am IST
Devotees chant hymns as they hold a sit-in dharna
Hundreds of devotees, including children, have sat down in the space leading to the temple's holy steps. They are chanting Lord Ayyappa's name and hymns.
9:02am IST
Kerala govt tells police to ensure no use of force
Government directs inspector general to ensure no police action or use of force. The two women are waiting at the base of temple.
9am IST
Women stop approach 500m from temple
The women have reached the Nada Panthal, the point where from the holy steps lead up to the shrine.
8:51am IST
Police attempt to reason with devotees blocking path
Inspector general of police S Sreejith talks to protesting mob blocking their path. Says police are duty-bound to enforce law. "We are not here to hurt your sentiments," says the Sreejith. Protestors not ready to move.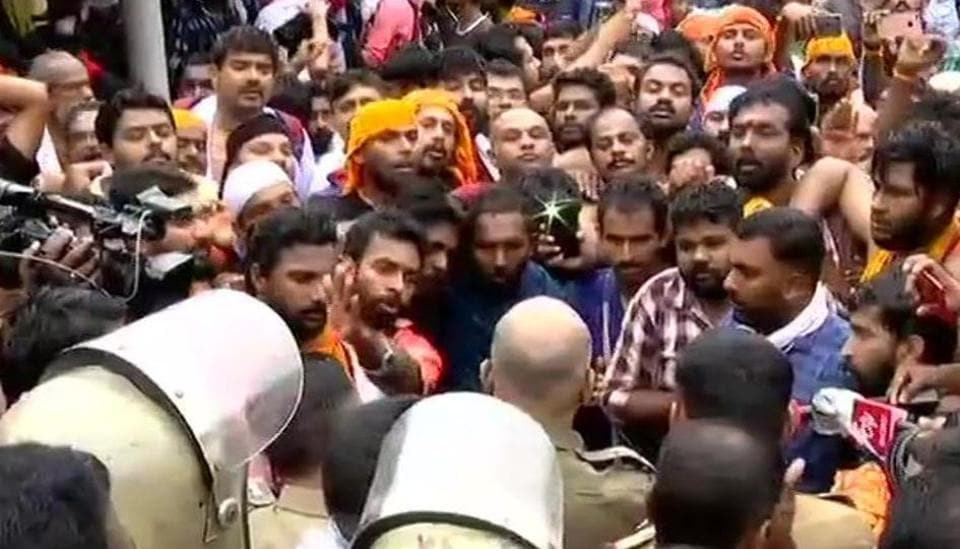 The police and devotees are in stand-off at the Nada Panthal, the last pit-stop before the main entry to the temple. ( ANI/Twitter )
8:40am IST
Devotees slowly turning violent
People are beginning to violently protest. The Pandalam family ask the temple head priest, called the tantri, to close the temple doors as the women get closer.
8:30am IST
Police warn of stampede
Situation gets very tense in Sabarimala as any violent outbreak poses danger to everyone. The trekking path to the temple has deep gorges. Trying to push protestors out of the way could cause many casualties both among devotees and police personnel.
8:20am IST
Second woman also making the climb
Police are escorting a second woman trekking up the mountain. Neither of the women's identity has been revealed to ensure their safety.
8:16am IST
Woman crosses three-fourth of the distance
The journalist has come the closest to the temple than any woman of menstrual age so far. However, situation has become tense as devotees attempt to clock their path. Children among the devotees. Police warn of a stampede.
7:50 am IST
Path to temple clearer after police move protesters
Police moved devotees camping at the hilltop over the night to ensure security. Devotees on Thursday had lay on the ground in front of another woman making the trek to block her from climbing the hill.
7:40 am IST
Journalist crosses first mountain range
The woman journalist has crossed Neeli Mala, the first mountain range. She has two more steep ranges to cross. The situation has remained peaceful so far.
7:25 am IST
Journalist in police uniform, 150 cops form guard
The woman journalist has so far trekked 5 kms. Reports say she is in a police uniform and riot gear to camouflage her. She is accompanied by around 150 policemen who have formed a three-ring protection.
7:20 am IST
Woman journalist treks to Sabarimala temple
A woman journalist from Andhra treks to Sabarimala temple under police protection. The trek to the temple is a 5-kilometre stretch.
Personalise your news feed. Follow trending topics