National anthem not mandatory in cinema halls, says SC, modifies 2016 order
Jan 09, 2018 11:54 PM IST
The Supreme Court said a final decision on the national anthem will be taken by an inter-ministerial committee set up by the government.
The Supreme Court on Tuesday said playing the national anthem before screening of a movie in cinemas was not mandatory any more, reversing an order issued more than a year ago.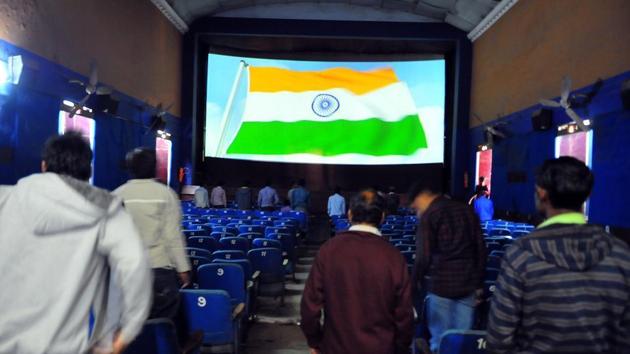 The court left the decision to play the anthem to theatre owners a day after the Centre asked it to put on hold its November 2016 order that had made the anthem a must in cinemas.
"The interim order passed on November 30, 2016 is modified that playing of national anthem prior to screening of a film is not mandatory or directory," a bench headed by Chief Justice Dipak Misra said.
Before the 2016 ruling, some state governments – including Maharashtra – had made it mandatory for the national anthem to be played in theatres across the state. Legal experts said that any such executive order by states would stand.
But movie-goers would have to stand in a show of respect if a cinema chose to play the anthem, it said.
"It is clear as crystal that no one can be intentionally prevented from singing or cause disturbance in assembly singing the anthem," the court said, citing the prevention of insult of national honour act. Offenders, it said, would face punishment.
A 12-member inter-ministerial committee, set up by the Centre, would come up with an extensive anthem code clearly listing out the dos and the don'ts, the court said, disposing of a public interest litigation (PIL).
The PIL had sought directions to the government to ensure the anthem was played in all cinemas, a protocol fixed for its singing and norms that specified what constituted disrespect and abuse of the song.
In an affidavit on Monday, the Centre asked the court to put on hold the November 2016 order, as it needed six months to come out with the anthem guidelines.
Giving the government a final say in the matter, the bench admitted it was not possible to give a list of occasions to play the anthem.
But at the same time the law made it clear that the anthem "has not only to be respected but it's a respect as a salutation to the motherland", it said.
"Proper decorum has to be maintained," the court said, asking the government to fill the gaps, as pointed in the PIL, in the prevention of insult of national honour act.
The petitioner had said the 1971 act did not define what constituted disrespecting the national flag.
The November 2016 order had reignited a debate if assertive brand of nationalistic pride was stifling civil liberties. A year later the order faced criticism from within the court, with justice DY Chandrachud asking if everyone "should wear our patriotism on our sleeves"?